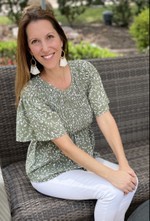 Whether you find yourself cozying up to watch your favorite Christmas movie or hosting the annual holiday party, there is a subtle sense of comfort when we wrap our fingers around a festively cute mug that exudes the fragrance of peppermint and seasonal spices. Hmmm. Upon taking that first sip – Hallelujah! Christmas time has officially begun!
So, are you ready to snuggle up by the fire, put the holiday stress on hold, and drink up some festive and flavorful holiday drinks?  Well, grab that adorable snowman mug that's been hiding in the back of the cupboard, and let's pour some decadent goodness in with these simply sweet recipes.
Here are 7 holiday drinks that are sure to please even the scrooges of the bunch. Let the holiday clinking of glasses begin! Cheers to the Christmas season!
Homemade Cocoa with Marshmallows
Is there anything more nostalgic and classic than a good 'ole fashioned cocoa? This delicious crockpot recipe will be the biggest hit to any get-together you are hosting. Add the fluffy homemade marshmallows and you'll sink into its yummy richness being warmed up in no time.
(Serves 6-8)
What You'll Need:
2 cups semi-sweet chocolate chips 
6 cups whole milk 
1 ½ cups heavy whipping cream
1 (14 oz.) can sweetened condensed milk
1 tsp. vanilla
Directions:
Pour all ingredients into slow cooker and stir well. Let slow cook for 2-4 hours. Stir every thirty minutes if possible. Serve with marshmallows.
Homemade Marshmallows
This recipe may seem a bit tricky the first time you try your hand at it, but trust me they are worth the effort- and time. The few times I have ventured out to make these white puffs of goodness, I have tweaked the recipe just a bit to help get them out of the pan easier and to adjust the flavor. (Tip: A few extra hands in the kitchen may be helpful).
What You'll Need:
1 cup confectioners' sugar
2 cups white sugar
1 tbsp. light corn syrup
1 ¼ c. water divided
3 tbsp. gelatin
2 egg white
1 tsp. vanilla extract
Directions:
Spray a 9×9 pan with non-stick spray and dust with powered white sugar (confectioner's sugar). In a small saucepan on med-high heat mix 2 cups white sugar, 1 tbsp. light corn syrup, and ¾ cup water. Stir well and let heat until dissolved. Bring to a boil and then let sit. (You will know it's ready if you place a drop of this in cold water and it congeals) In another metal bowl mix ¾ cup water and 3 tbsp of non-flavored gelatin. Whisk this into the saucepan. It will be frothy. Meanwhile, beat two egg white until fluffy and forms peaks. Pour mixture from saucepan into egg whites while still mixing. Fold in vanilla. Spread evenly in 9×9 prepared pan. Let rest overnight and cut into squares next day.
(Emily's Famous Marshmallows from allrecipes.com)
Hot Wassail
This is a staple recipe in our house as it not only sits on the stove for the entire day as we gradually sip on it, but this delicious drink brings forth a heavenly aroma as well. 
(Serves 8-10)
What You'll Need:
Quart apple juice
Quart orange juice
Orange and apple slices
3-4 cinnamon sticks
1 tsp. vanilla extract
½ tsp cinnamon, nutmeg and allspice
¼ cup sugar
Directions:
Place all ingredients in a stockpot or crock pot and let come to a boil. Stir to blend well. Then turn down heat to simmer. If placing in crockpot keep on low for 4-6 hours. You can refrigerate and re-heat again if you don't drink all at once. Enjoy both the tastes and smells of this recipe! 
Peppermint Latte
Calling all peppermint lovers! 'Tis the season for the red and white stripes. This drink is not only yummy, but so festive and cute. Create this for your next event, and this "cute little drink" will have everyone smiling with joy! 
(This is for one serving)
What You'll Need:
Peppermint syrup (like Torani)
2 shots espresso or strong coffee
1 cup whole milk 
Crushed and whole candy canes for topping
Directions:
Steam the milk and peppermint syrup together pour into a cup and add the espresso. Spoon the rest of the foamed milk on top and garish with crushed candy canes.
Cranberry, Orange Spiced Infused Water (Hot or Cold)
Who wants to drink plain water when you can spruce it up with season fruits? Well, here's an easy peasy way to do just that this holiday season.
What You'll Need:
1 sliced orange
Bag of whole cranberries
Rosemary (optional)
Directions:
In a carafe or pitcher pour distilled or filtered water. Add the sliced orange and about ¼- ½ bag of the cranberries. Place rosemary on the side and cover and refrigerate overnight. You can strain before serving the next day. You can also just drink as is if an infuser is inserted to catch all the pulp.
Grinch Sherbet Punch
Need a festive drink for the kiddos? Try this one! It's sure to please kids of all ages. And, if you're feeling a little "grinchy" it will not only lift your spirits but may even grow your heart with joy in the process!
(Serves 8-10)
What You'll Need:
2 quarts lime sherbet
2 quarts ginger ale
1 large can pineapple juice
Red sprinkles for top
Directions:
In a large punch bowl add ingredients and stir to mix. Spoon in glasses and sprinkle with red glitter sprinkles. Enjoy!
Gingerbread Tea
My girls and I love to drink hot tea and have been known to hit up every tearoom in and around our town. During one holiday season a tearoom introduced us to gingerbread tea and it quickly became a holiday favorite. Super easy and super delicious!
(This is for one serving)
What You'll Need:
Regular tea bags
Gingerbread syrup 
½ cup whole milk 
1 tsp. honey
Cinnamon sticks
Cinnamon and nutmeg to taste
Directions:
Make tea as directed on the package. As the tea steeps, mix 3 pumps of syrup to milk and honey in saucepan. Heat until blended. I sometimes add cinnamon or nutmeg for extra taste. Pour hot tea in cup and add warmed milk mixture. Place cinnamon stick for garnish. Yummy!
Shirley Temple
This was always a holiday favorite growing up as my dad used to make this for my sister and I as we watched movies or had family over. It was a special treat and always brought a smile to my face, especially since he made sure to add extra maraschino cherries to mine. 
(This is for one serving)
What You'll Need:
Ice
7 up or ginger ale
Cherry juice or grenadine syrup
Maraschino cherries
Directions:
Fill a glass with ice and add a tsp of cherry juice or grenadine syrup then pour the 7 up or ginger ale on top. Drop in a cherry (or two) and serve with a fun straw. You can even add a lime wedge or mint spring for fun garnish.
Well, there you have it friends. Fun and festive holiday drinks that are bound to be crowd pleasers, make for some fun family memories, and bring a little comfort to your heart this holiday season. May your holidays be filled with the ones you love as your cup runneth over with delicious tastes and smells of this season. Cheers!
*Recipes come from allrecipes.com and family and friends
Photo credit: ©GettyImages/Vadym Petrochenko

Alicia Searl is a devotional author, blogger, and speaker that is passionate about pouring out her heart and pointing ladies of all ages back to Jesus. She has an education background and master's in literacy.  Her favorite people call her Mom, which is why much of her time is spent cheering them on at a softball game or dance class. She is married to her heartthrob (a tall, spiky-haired blond) who can whip up a mean latte. She sips that goodness while writing her heart on a page while her puppy licks her feet. Visit her website at aliciasearl.com and connect with her on Instagram and Facebook.