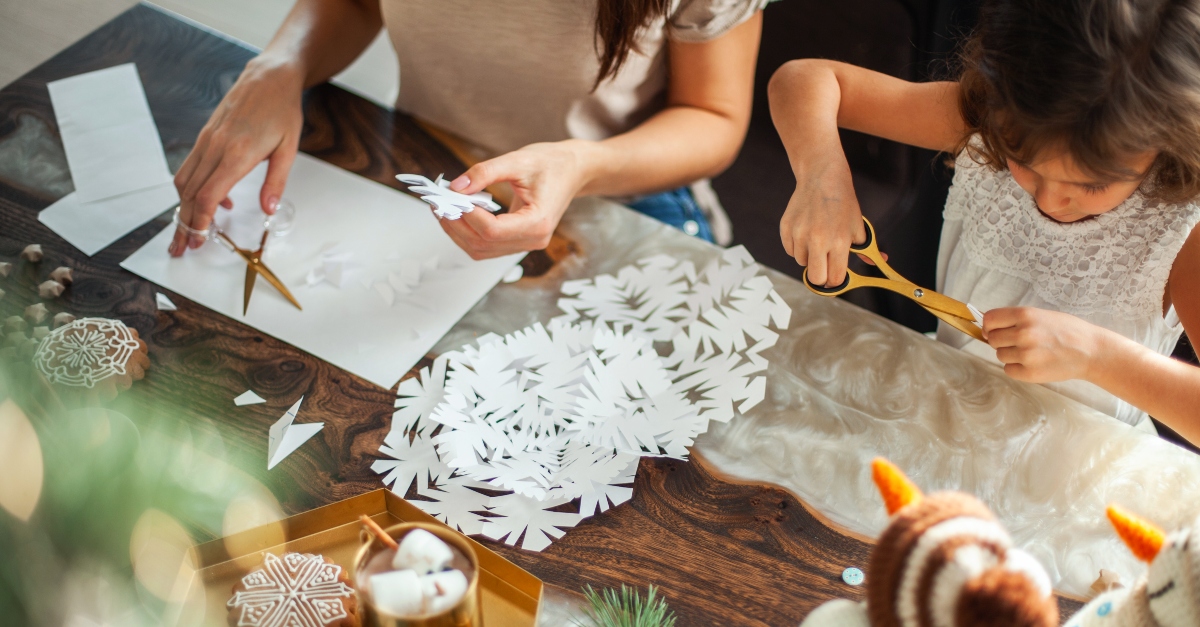 The Christmas season is a season filled with reminders of Jesus' birth, beautiful twinkling lights illuminating the night, and cozy homes filled with warmth. During the Christmas season, many of us enjoy making crafts to fill our homes or to give to friends and family. If you want to make a few Christmas crafts this year, here are five Christmas holiday crafts to try.
The first Christmas holiday craft to try is what my family and I call a "Beauty bookmark." My family and I call it a "Beauty bookmark" because the Scottish Terrier felt cut out at the bottom of the bookmark reminded us of our Scottish Terrier-Beagle mix dog named Beauty.
Therefore, the craft was called the "Beauty bookmark." The finished project of the Beauty bookmark will look like a thick plaid ribbon bookmark with a Scottish Terrier cut-out felt design on the bottom of the bookmark.
Before you make this craft, you first need all your supplies. You will need a plaid ribbon, black felt, hot glue, a hot glue gun, and scissors. With the plaid ribbon, you can cut sections of 2×8 ribbon to get the correct size for the bookmark.
Once you have cut the ribbon into the proper size, you can use an outline of a Scottish Terrier to cut out the correct shape from the felt for your bookmark.
After you have cut out the shape of the Scottish Terrier, place hot glue on the back of the felt design and glue it to the bottom of the plaid ribbon. While your craft is drying, you can place it inside a book to help it dry better.
It can take 12-24 hours to completely dry and be ready for use. Once your Beauty bookmark has dried, it is ready to use in your next book! The bookmarks my sisters and I made as children are still being used in the present day, which is about 15 years later.
This is a great craft for Christmas because the plaid pattern reminds us of a cozy blanket in winter, and the sweet little Scottish Terrier can remind us of the love from our loved ones.
2. Homemade Christmas Cards
A second Christmas holiday craft to do this year is homemade Christmas cards. Homemade Christmas cards are always fun to do, and there are a variety of different ways how you can make homemade Christmas cards.
You can design your own Christmas cards with your own drawing, or you can use printouts. In addition to these ideas, you can use photographs as your homemade Christmas cards. You have all the creative rights since you are the creator of the cards.
Be creative as you design your Christmas cards. A fun idea could be personal handwriting messages to your friends and family for the Christmas season inside your homemade Christmas cards.
Through your personal messages, you can take time to write a personal note to your friends and family, which will help them feel extra special and loved this holiday season. A little note inside a Christmas card can go a long way for someone's heart.
If you want to create a unique craft for this holiday season, try making homemade Christmas cards. They are fairly easy to make, and they don't cost too much to make. Postage can add up at times, yet it is still a great holiday craft to make this holiday season.
Christmas cards can also be a great way to share the gospel with loved ones in your life who don't know Jesus as their Savior. Christmas is all about celebrating the birth of Jesus into the world, and it's a great time to share the gospel.
3. Homemade Gingerbread Houses
A third Christmas holiday craft is homemade gingerbread houses. Making gingerbread houses is a fun Christmas craft that you can also enjoy as a treat if you use icing instead of actual glue.
If you do use glue, which does seem to be more effective than icing to keep your gingerbread house together, you need to make sure you don't let any children eat the gingerbread house. Always expecting the unexpected can help avoid any problems.
In order to make this craft, you can purchase a gingerbread craft kit at a grocery store or a craft store. You can also bake everything from scratch if you would rather have a fully edible treat.
As a child, my mom bought us a gingerbread house kit to make from the grocery store, yet she was too afraid to let us eat it because we had used glue.
If you would rather make sure it is an edible craft, try baking it from scratch; however, if you don't mind if you can't eat the gingerbread house, you can try a kit from a grocery store or craft store.
Whichever you choose, it will be a great Christmas holiday craft for you or your whole family. Making a gingerbread house leaves room for your own creative rights and your own creative expression.
You can add gumdrops, chocolate chips, and sprinkles to your gingerbread house to add some uniqueness to your craft. Gingerbread houses are part of the Christmas season because we naturally associate this craft with the holidays.
4. Christmas Door Hanger
A fourth Christmas holiday craft is a Christmas door hanger. A Christmas door hanger is a fun craft that you can display for the entire Christmas season. When it comes to making a Christmas door hanger, the creative ideas are endless.
Since it is ultimately your choice of what design you choose, you can pick any idea you want or come up with your own ideas for a Christmas door hanger.
A few ideas can be found on Craft Cuts. There are many ideas on this website for Christmas door hangers if you want to try one, or you could be spontaneous and choose your own idea from start to finish.
With your Christmas door hanger, you can also add bells to give a more festive vibe. Depending on which Christmas door hanger you decide to make will affect what supplies you will need to complete your craft.
Since this craft is versatile, you can be as creative as you would like. Your Christmas door hanger is your own unique creation that you can design and keep for years to come.
5. Pine Cone Christmas Tree
A fifth Christmas holiday craft for this year is a pinecone Christmas tree. Pinecone Christmas trees are fairly easy to make. You first need to purchase pinecones from a craft store, or you could use pinecones outdoors.
The craft will work either way. You will need green paint, white paint, glitter, and sequin pieces. You will paint the pinecone first with green paint and then allow it to dry. Once the green paint has dried, you can add white paint to give the illusion that the tree has snow on it.
After the white paint has dried, then you can add sequin pieces and glitter to decorate your tree. Once everything has dried, you can decorate your home with your pinecone Christmas tree, or you can give it to someone as a gift.
You can even turn this craft into an ornament if you tie a string or ribbon to the top in order to be able to hang it on the tree. Making pinecone Christmas trees is a fun activity for everyone during the holiday season.
For further reading:
7 Ways to Celebrate Advent at Home as a Family
5 Craft Ideas to Try This Thanksgiving
3 Ways to Keep Jesus at the Center of Your Christmas This Year
Photo Credit: ©iStock/Getty Images Plus/Kostikova
---
Vivian Bricker loves Jesus, studying the Word of God, and helping others in their walk with Christ. She has earned a Bachelor of Arts and Master's degree in Christian Ministry with a deep academic emphasis in theology. Her favorite things to do are spending time with her family and friends, reading, and spending time outside. When she is not writing, she is embarking on other adventures.