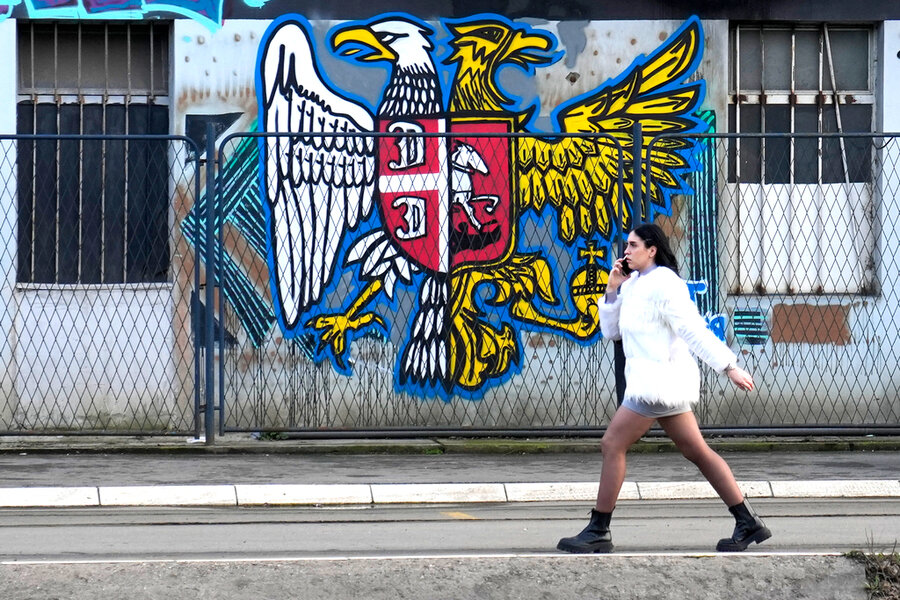 Russia's invasion of Ukraine has been clarifying for Europe about its values – democratic values that helped restrain the ethnic nationalism of its own past wars and now drives Moscow's aggression. The latest example is an agreement brokered by the European Union to normalize ties between Serbia and Kosovo, nearly a quarter century after a war between them left thousands killed.
The two states in the Balkans, both remnants of the former Yugoslavia, accepted an 11-point plan on Feb. 27 to improve ties, respect each other's borders, and deal with the ethnic Serb minority in Kosovo, a nation of mainly ethnic Albanians. If implemented, the plan would deal a blow to Russia's attempts to control states in Europe with Slavic or Orthodox Christian populations such as Serbia.
The invasion forced Serbia to take steps to partially distance itself from Moscow, such as seeking alternatives to Russian gas and oil. Serbia also voted for a United Nations resolution condemning the invasion and refusing to recognize Russia's annexations of eastern Ukraine.
Serbia's decision to accept the EU plan "should bring what everyone has been defending for years – peace, coexistence, a better life for Serbs and Albanians," wrote Zorana Mihajlović, a former minister under President Aleksandar Vučić, on Instagram. The move might also help accelerate Serbia's candidacy for membership in the EU.
Since the invasion, the United States has joined EU leaders in trying to end frictions left over from the Balkan wars of the 1990s that erupted after the end of the Cold War.
"What's new is not only the seriousness of both [Kosovo and Serbia] but the seriousness of our European partners to make this happen in the shadow of one of the biggest crises Europe has seen since the WW2," said U.S. Deputy Assistant Secretary of State Gabriel Escobar.
The EU plan is designed to make small steps in trust-building, such as easier cross-border travel for business or education. As President Vučić told his nation after accepting the plan: "Let's make rational compromises that concern real life." 
That sort of democratic consensus-seeking does not sound like the aggressive nationalism of Serbia's past. The battlefront against Russia's war with Ukraine isn't only in Ukraine.