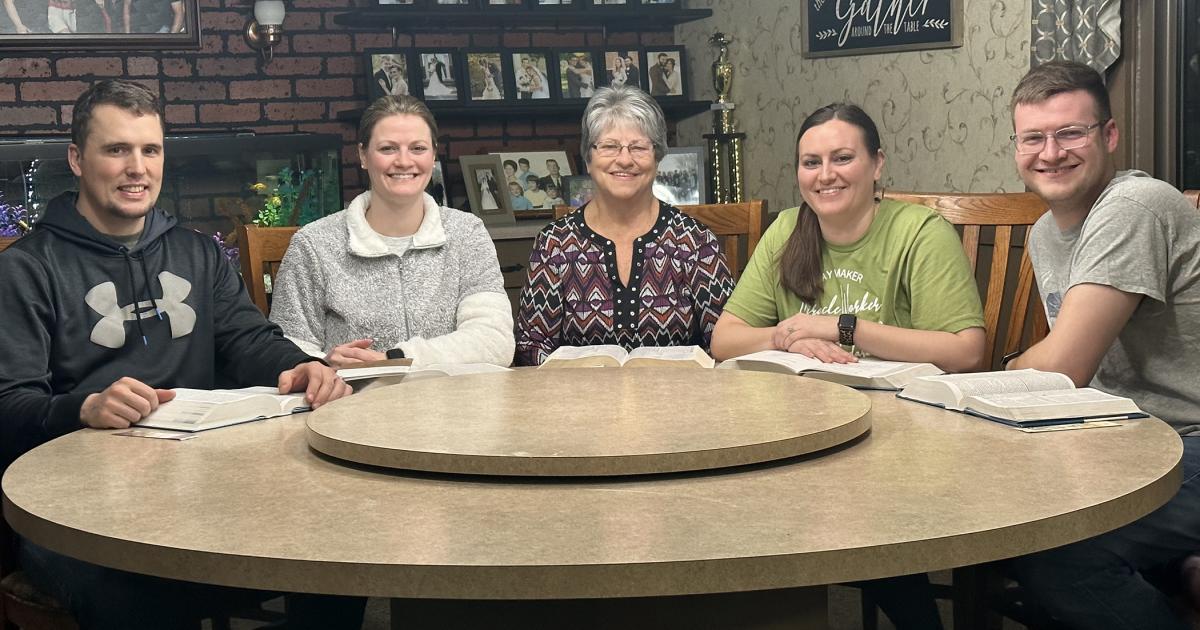 For 40 years, Norma VanderMolen of Bethel Christian Reformed Church in DeMotte, Ind., led Coffee Break—a discovery-based Bible study originally developed for women—at a big, round kitchen table in her home. "They called us 'The Ladies of the Round Table,'" VanderMolen said with a chuckle. "And that's what we became." 
She loved leading Coffee Break, but at one point VanderMolen's grandchildren grew heavy on her heart. Like many people in their late teens and 20s, church was not woven into the fabric of their lives. "It broke my heart for them," VanderMolen said. She wanted them to hunger for God, and for God's Word. So she began to pray.
"I prayed for them all by name," said VanderMolen, who has 21 grandchildren and 23 great-grandchildren. She was direct with God: "Bring a teacher to them, Lord!" she prayed. God was direct back: "YOU teach them," she heard. At first, VanderMolen didn't think that was such a good idea. "I'm their grandma!" she said. "But," she recalls deciding, "if that was truly God's voice, then it won't fail." VanderMolen determined to give it a try.
At a basketball game, VanderMolen approached one of her granddaughters in the hallway and asked if she'd like to do a Bible study with her. Immediately, her granddaughter got tears in her eyes and said yes. "This is the best thing that ever happened to me," she told her grandmother.
That year, 2012, the Ladies of the Round Table were replaced with the Grandchildren of the Round Table. VanderMolen retired from leading Coffee Break and began leading her grandchildren through the Bible. "I knew I couldn't do both. We're only human, and we have to be led by God," she said.
That first Sunday, there were five grandchildren who attended. VanderMolen asked them where they wanted to start: Did they have a favorite book? Did they want to start with the Old or the New Testament? 
"What do you mean?" they asked. "Shouldn't we just read the whole thing? When you read a book, you have to start at the beginning."
So that's what they did. This was February 10, 2012. VanderMolen knows the exact date because her grandson wrote it down in his Bible.
One of the people who attended those first Bible studies was the husband of one of VanderMolen's granddaughters. "I have nothing to go on," he told VanderMolen. "I have no prior knowledge."
"Well, that's a wonderful place to start," VanderMolen responded.
About four months into the study he asked VanderMolen if he could talk with her privately. He told her he hadn't wanted to do the Bible study and had only agreed because his wife asked him. "I thought it would be boring," he said. "It's not boring."
Shortly thereafter, VanderMolen asked the group gathered around the table if they wanted to invite Jesus into their hearts as their Savior. "I'll guide you through it," she told them, "but you have to make the decision." That day, every one of them accepted Christ.
VanderMolen, who recently turned 80, still holds weekly Bible studies for her grandchildren. She provides a meal, and her husband, Elmer, babysits the great-grandchildren while VanderMolen leads the adults through the Bible. "We've even read Leviticus!" she said of the third book of Moses detailing laws for God's people, Israel.
VanderMolen wants to emphasize that those who are interested in this kind of work should start praying. "God has to melt their hearts. He has to open them up to the whole thing. Without prayer, you're not letting the Holy Spirit prepare them," she said.
And when they say they're not interested? "You keep praying," VanderMolen says, without hesitation.
The other day one of VanderMolen's grandchildren was talking to her and said that she mostly felt judged by older people because she wasn't attending church. This didn't make her very warm to the idea of going. "But you never did that," she told her grandma. "You just loved me."
"Behind the scenes, I was praying for you," VanderMolen told her.