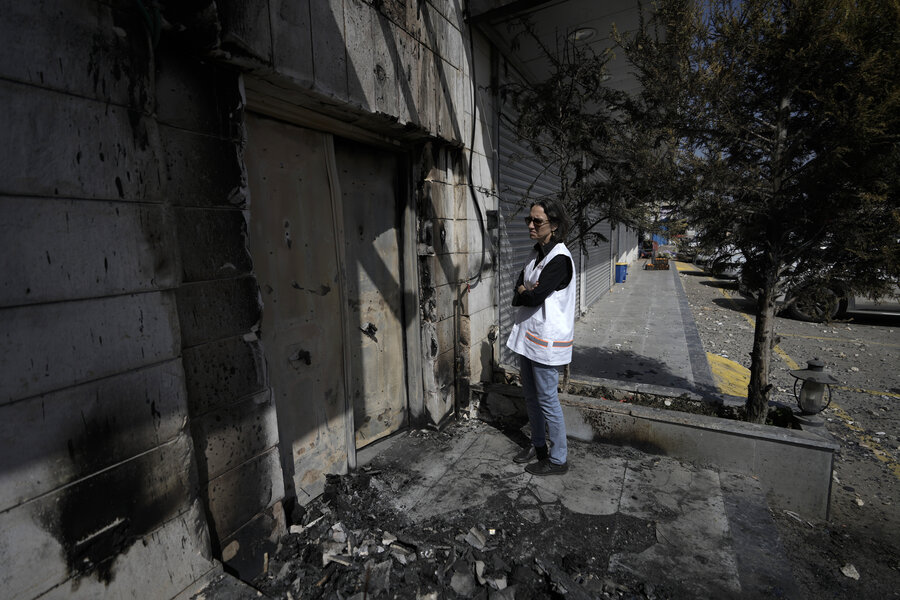 An Israeli-led crowdfunding campaign has raised hundreds of thousands of dollars for Palestinian residents of a West Bank town that was set ablaze by radical Jewish settlers, the organizer of the drive said Thursday.
Some 12,000 Israelis donated nearly 1.7 million shekels ($465,000 US dollars) since the campaign was launched this week. The fundraising effort was a rare instance of cooperation between Israelis and Palestinians at a time when tensions have been surging between the sides over spiraling violence.
As the Monitor reported earlier this week: 
Before the ink dried Sunday on the agreement reached during the highest-level direct Israeli-Palestinian talks in years, violence burned in the West Bank – killings, revenge attacks, the torching of homes and cars.  

It was a vivid reminder for many of the urgent need for de-escalation and the immediate challenges facing this rare diplomacy, but also of the questionable ability of Israeli and Palestinian leaders to calm or even control the situation on the ground.
Scores of Israeli settlers went on a violent rampage in the northern West Bank town of Hawara late on Sunday, setting dozens of cars and homes on fire after two settlers were killed by a Palestinian gunman there earlier in the day. One Palestinian was killed by Israeli fire during the incident, the Palestinian Health Ministry said.
Palestinian media said some 30 homes and cars were torched. Photos and video on social media showed large fires burning throughout the town of Hawara – scene of the deadly shooting earlier in the day – and lighting up the sky.
In one video, a crowd of Jewish settlers stood in prayer as they stared at a building in flames. And earlier, a prominent Israeli Cabinet minister and settler leader had called for Israel to strike "without mercy."
As videos of the violence appeared on evening news shows, Prime Minister Benjamin Netanyahu appealed for calm and urged against vigilante violence. "I ask that when blood is boiling and the spirit is hot, don't take the law into your hands," Mr. Netanyahu said in a video statement.
The Israeli military said its chief of staff, Lt. Gen. Herzl Halevi, rushed to scene. It said troops were being reinforced in the area as they worked to restore order and search for the shooter.
Ghassan Douglas, a Palestinian official who monitors Israeli settlements in the Nablus region, estimated around 400 Jewish settlers took part in the attack.
"I never seen such an attack," he said.
Palestinian President Mahmoud Abbas condemned what he called "the terrorist acts carried out by settlers under the protection of the occupation forces tonight."
"We hold the Israeli government fully responsible," he added.
The European Union said it was "alarmed by" the violence in Hawara and that "authorities on all sides must intervene now to stop this endless cycle of violence." The U.K.'s ambassador to Israel, Neil Wigan, said that "Israel should tackle settler violence, with those responsible brought to justice."
The rampage, the worst such violence in decades, prompted Israeli activist Yaya Fink, an observant Jew, to launch the fundraising initiative.
"I had very bad feelings for when I saw hundreds of religious Jews tried to burn Hawara, including innocent people," he said, adding that it delivered a message that "the majority of the Jews are against extremism, against racism." He said most of the money was raised within the campaign's first 12 hours.
Mr. Fink said the money will be sent as compensation to Palestinians whose property was damaged in the attack. He said he received threats from opponents to the campaign, who called him a traitor for raising money for the Palestinians, even as some are carrying out attacks.
While the rampage prompted international condemnation, Israel's government, which is made up of pro-settlement ultranationalists, expressed little outrage and only called on the perpetrators not to take the law into their own hands.
However, some lawmakers went even further, including Finance Minister Bezalel Smotrich, who said Hawara should be "erased" but by state authorities and not by private citizens. He later backtracked on those remarks.
U.S. State Department spokesman Ned Price on Wednesday called on Mr. Netanyahu to "publicly and clearly reject" Mr. Smotrich's comments, describing them as "repugnant" and "disgusting."
On Thursday, U.N. spokesman Stephane Dujarric called Mr. Smotrich's remark about Hawara "irresponsible" and "unacceptable." The U.N. chief, Antonio Guterres, has reiterated his call for all sides to "refrain from incitement, inflammatory rhetoric, and all acts of provocation," Mr. Dujarric added.
Maj. Gen. Yehuda Fuchs, head of the military's Central Command in charge of the West Bank, said this week the army was not prepared for the intensity of the Hawara violence, which he called "a pogrom done by outlaws." He was using a term that usually refers to mob attacks against Jews in eastern Europe in the 19th and early 20th centuries.
More than 60 Palestinians have been killed by Israeli fire this year, about half of them militants, according to a tally by The Associated Press. Palestinian attacks against Israelis have killed 14 Israelis during that same time. It has been one of the deadliest periods between Israelis and Palestinians in years.
This story was reported by The Associated Press. Reporting by AP writer Josef Federman was included in this report.