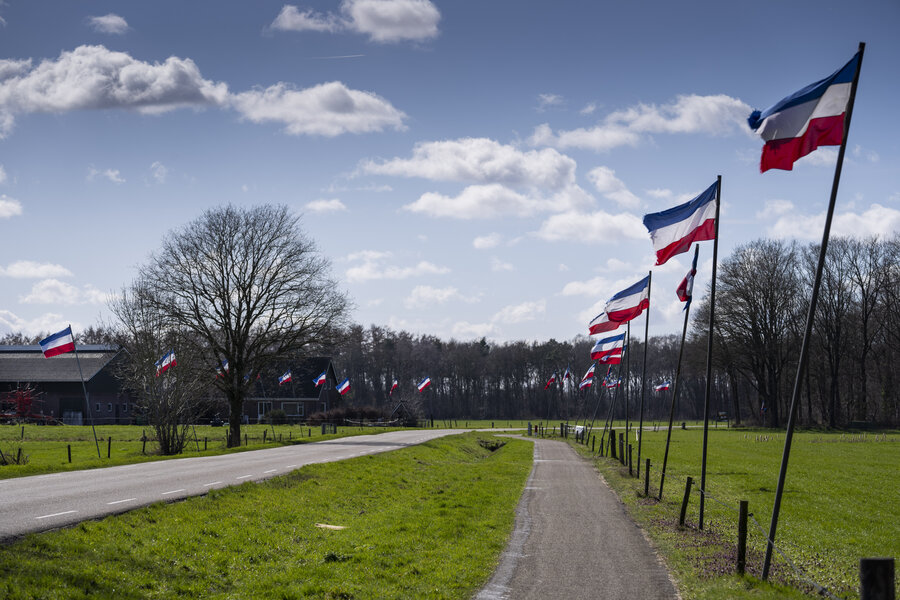 A new powerhouse of Dutch right-wing populism took political center stage Thursday after winning its first provincial elections, a victory that was seen as a resounding rebuke to Prime Minister Mark Rutte's ruling four-party coalition.
With counting of ballots from Wednesday's vote wrapping up, the Farmer Citizen Movement – known by its Dutch acronym BBB – was predicted to win 15 seats in the 75-seat upper house of the Dutch national parliament, level with the bloc formed by left-of-center Labor and Green parties. The provincial lawmakers elected in Wednesday's vote choose national senators at the end of May.
Losses suffered by members of Mr. Rutte's coalition weaken the government but could also strengthen their resolve to sit out their four-year term in office that ends in 2025 rather than face an early national election. They also will compound problems for Mr. Rutte in his attempts to drastically slash pollution from the country's agriculture, industry, and transport sectors to protect vulnerable natural habitats.
Victories in provinces across the nation of nearly 18 million for a party whose leader Caroline van der Plas is its only national lawmaker underscore a deep-rooted resentment of mainstream politics in the Netherlands that spreads far beyond the party's farming power base. With the count nearing completion, the BBB was forecast to become the biggest party in every province except the central province of Utrecht.
"We are all normal people, and all the people who voted for us are normal citizens," Ms. van der Plas said in a victory speech.
"Normally, if people no longer trust the government, they stay home," she added. "Today they showed they don't want to stay at home – they want their voices to be heard."
The party that traditionally has represented many farmers and conservative rural voters, the Christian Democrats, which is one of the four coalition parties, was one of the big losers in the vote Wednesday.
Midterm elections for the Netherlands' 12 provincial legislatures are often used by voters to register their anger at sitting governments, but the success can be fleeting as fickle populist voters shift their allegiances. Four years ago, the far-right populist Forum for Democracy won the biggest share of the vote, but on Wednesday it was decimated.
Ms. van der Plas describes her party as "social right wing," with its initial focus on the future of farmers and rural communities now broadened to make it appealing to a far wider electorate. Political analyst Andre Krouwel of the Vrije Universiteit Amsterdam calls it "folksy nationalism."
Mr. Rutte, who came to power in 2010 and is the Netherlands' longest-serving leader, is a political survivor who is adept at forging alliances to push through his policies in the splintered Dutch political landscape.
But Wednesday's result will make life in the senate – where his coalition already didn't have a majority – even tougher. If, as predicted, the BBB and the combination of Labor and the Greens both finish with 15 seats, Mr. Rutte will face a choice of working with a left-leaning bloc that is seeking more ambition in environmental policies, or with the BBB that aims to soften policies aimed at cutting nitrate pollution.
"There is a choice in the senate – left or right," Greens leader Jesse Klaver said.
The governing coalition wants to cut emissions of pollutants, predominantly nitrogen oxide and ammonia, by 50% nationwide by 2030. Ministers call the proposal an "unavoidable transition" that aims to improve air, land, and water quality.
The plans have sparked mass protests by farmers in recent years, including blocking supermarket distribution centers with tractors and torching hay bales alongside highways. At farms across the nation, the Dutch flag hangs upside down as a sign of protest.
The BBB party's popularity soared amid the protests. It was formed in 2019 and won 1% of the votes in the national election in 2021, with Ms. van der Plas, a former agricultural journalist, becoming a national lawmaker and growing in popularity with her down-to-earth image. After her election in 2021, she was driven to the Dutch parliament in The Hague in a tractor.
Ms. van der Plas told Dutch broadcaster NOS on Thursday that the vote was about more than the farm pollution issue.
"Nitrate is a symbol for dissatisfaction in the country," she said, adding that many of her voters "feel unheard, unseen" by politicians in The Hague.
This story was reported by The Associated Press.