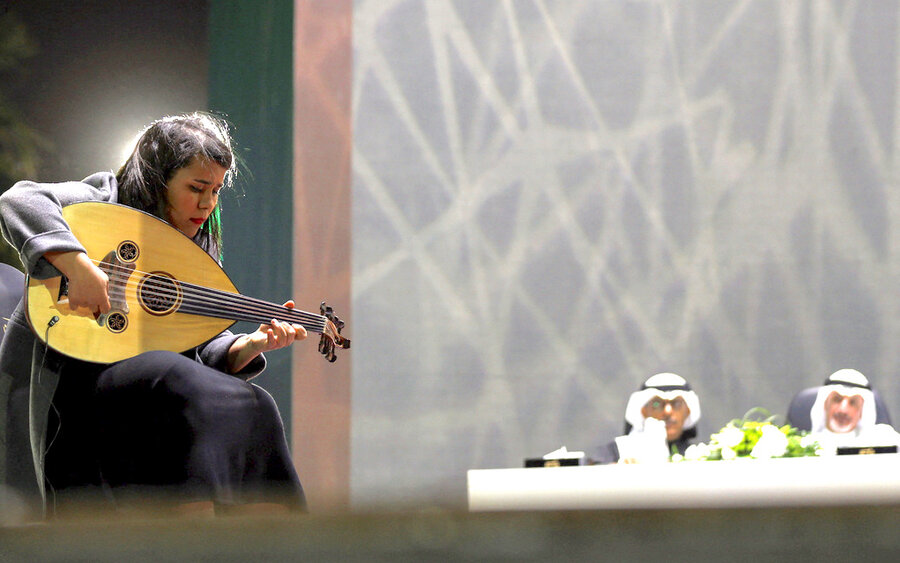 One of the world's dangerous powder kegs was partly defused last week. After seven years of estrangement and conflict in the Middle East, Iran and Saudi Arabia renewed official ties March 10. Each had different strategic reasons for the diplomatic detente in a very volatile region. Yet their leaders share one important necessity on the home front: They are each trying to meet the aspirations of a demographic bulge of people under 30 who have a recent history of protests for freedom on the streets or on social media.
As Saudi Foreign Minister Faisal bin Farhan al-Saud tweeted after the mutual recognition, both countries must now work together to "build a model of prosperity and stability."
Of the two, Saudi Arabia remains far ahead in creating opportunities for youth. That explains why Iran was more eager to renew ties, relying on three countries – Iraq, Oman, and lately China – to mediate the agreement. Last year, young Iranians erupted in protest after the death of a young woman following her arrest for improper head covering. The revolt was widespread and directed at ending clerical rule.
Since then, the regime has withdrawn its morality police, while many women defy the regime by not donning a hijab. Iran's economy is in shambles. And officials are trying to end a series of chemical attacks on schoolgirls which, according to one theory, are driven by revenge on girls and women for leading the recent protests.
In sharp contrast, tens of thousands of young Saudis will gather this weekend for a giant music festival in Jeddah, one of many since 2019 at which men and women have danced together. This follows a slew of reforms since 2016 that include allowing women to drive, easing of the male guardianship system over women, ending the harsh role of religious police, and majorly improving education. The percentage of women in the workforce has more than doubled in the past five years.
"The Saudi leadership thinks they have no choice because they can't develop a post-hydrocarbon economy without these liberalizations and turning Saudis from dependent subjects to wealth-producing citizens," Hussein Ibish, a scholar at the Arab Gulf States Institute in Washington, told The Los Angeles Times.
Neither country comes close to being a democracy. Each still harshly represses political dissent. Yet each is inching toward social freedoms, demanded by young people who are more digitally connected than ever to each other and the world.
It was time the two neighbors at least open embassies in each other's capitals. Perhaps officials can now share notes on what liberating values drive the next generation.