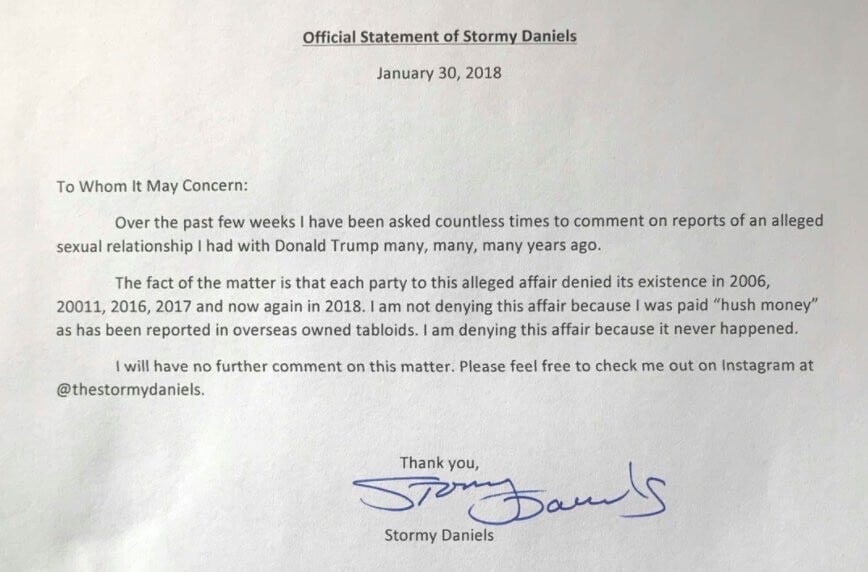 Gina Rodriguez, a representative for Stormy Daniels, confirmed that the adult film star did sign a 2018 letter in which she affirmed that an alleged "affair" between herself and former President Donald J. Trump "never happened," TMZ reported at the time.
Daniels, whose real name is Stephanie Clifford, wrote in the letter more than five years ago, "Over the past few weeks I have been asked countless times to comment on reports of an alleged sexual relationship I had with Donald Trump many, many, many years ago."
"The fact of the matter is that each party to this alleged affair denied its existence in 2006, 20011, 2016, 2017 and now again in 2018," she went on to say. "I am not denying this affair because I was paid 'hush money' as has been reported in overseas owned tabloids. I am denying this affair because it never happened."
"I will have no further comment on this matter," Daniels concluded.
The TMZ report resurfaced as Trump posted a link to the article on his Truth Social account on Thursday.
Trump's post comes the day after another 2018 letter, this time from his former lawyer Michael Cohen's lawyer, confirmed that the former president never paid Daniel any "hush money" to keep quiet about an affair nor instruct Cohen to do so.
Cohen had alleged that Trump directed him to pay $130,000 to Daniels to keep quiet about an alleged affair between herself and Trump just days before the 2016 presidential election.
Cohen said Trump reimbursed him with personal funds and later pleaded guilty to violating federal campaign finance law over the hush money.
However, in the February 8, 2018 letter to the Federal Election Commission (FEC), Cohen's attorney Stephen Ryan wrote: "Mr. Cohen used his own personal funds," and that "Neither the Trump Organization nor the Trump campaign was a party to the transaction with Ms. Clifford, and neither reimbursed Mr. Cohen for the payment directly or indirectly."