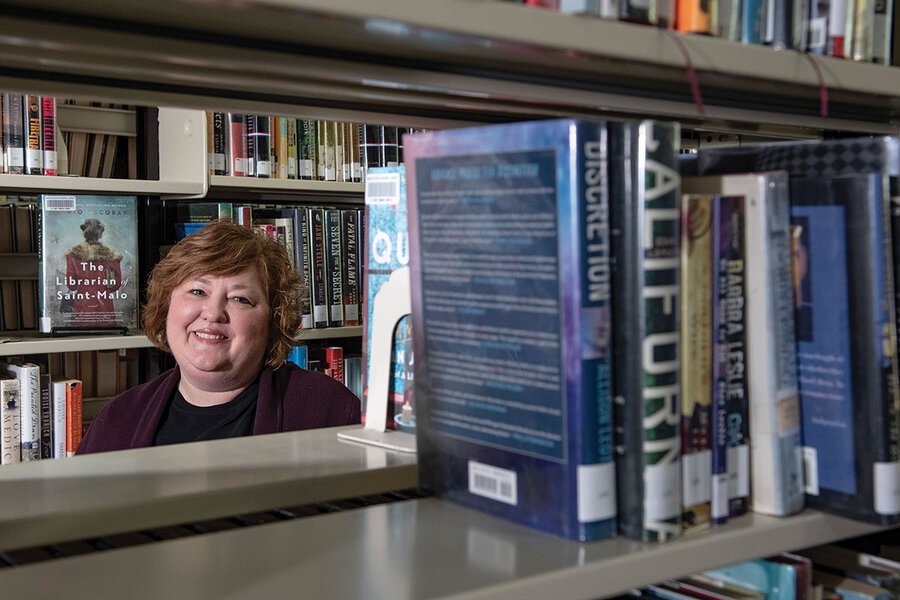 Del Prenger enters the main branch of the Missouri River Regional Library seeking a solution.
Weeks earlier, a 9-year-old relative had mailed her a brightly colored self-portrait. The artwork came with a request: Take the paper cutout version of him on adventures and report back. It's a popular elementary school ritual inspired by the children's book "Flat Stanley," whose eponymous character embarks on thrilling experiences after being pancaked by a bulletin board.
Ms. Prenger accepted her mission. She photographed the boy's self-portrait joining her as she played dominoes with friends, visited a relative in a nursing home, and met an Elvis impersonator in Branson. Next, she typed a letter detailing his travels and then – much to her dismay – hit a snag. It wouldn't print.
Why We Wrote This
Despite legislators' threats to defund libraries, this busy one looks toward the future, with plans to expand its embrace of the community.
"I was so frustrated," she says. "I said, 'Where in the world can I go?' And I thought, I'm going to run up to the library."
So here she is, laptop and photos in hand, shortly after 5:30 p.m. on a Tuesday. The reference librarian listens to her story and dives into problem-solving mode. Soon, her letter emerges from the printer. 
"The really amazing thing about libraries  – and this is true around the world about public libraries – [is that] anybody can go in them, and you're not expected to spend money," says Emily Knox, an associate professor in the School of Information Sciences at the University of Illinois Urbana-Champaign.
But in America this institution has come under siege with efforts to ban books and, in some cases, restrict or end public funding for libraries. 
Last year marked the largest number of censorship attempts since the American Library Association began tracking that information more than two decades ago. Reported book challenges increased 38% from 2021 to 2022, landing at 2,571 unique titles.
And in the Missouri State Capitol – a mere half-mile from the public library in downtown Jefferson City – lawmakers in the House sent a bill to the Senate that stripped funding from public libraries. 
But the all-day hum of activity inside this two-story, Brutalist-style library defies what some perceive as an attempt by a faction of conservatives to silence certain perspectives. 
Libraries help job seekers, small-business owners, students preparing for tests, parents who want to promote early literacy, and people who need a respite from hot or cold weather, among countless other functions. They're also one of the first brick-and-mortar institutions that open their doors and provide assistance when natural disasters strike, notes Deborah Caldwell-Stone, director of the American Library Association's Office for Intellectual Freedom.
"All that goes away when you say, 'Let's defund the libraries because we don't like a few books on the shelves,'" she says. "It really is the essence of elevating politics over the needs of communities."
Centuries ago, when Benjamin Franklin founded the member-supported Library Company of Philadelphia in 1731, it wasn't the technological wonderland libraries have become today. But the nation's first lending library did let members borrow science equipment, such as telescopes and air pumps, says Michael Barsanti, its executive director. In that sense, it was never solely about books.
Libraries grew and evolved along with America. By 1848, the Boston Public Library opened its doors, ushering in an era of free library service in the United States. Now, more than 9,000 public libraries exist nationwide – and the services they offer have multiplied well beyond printed literature.
Educational tablets, fishing poles, and tackle boxes are available for checkout here in the children's section. And last year, the library started working with local agencies to connect community members with help for energy bills, health care, food, and financial matters. The library – like its peers in many other cities – sits on the bus line and is centrally located.
"When they're able to come here and kind of hit everything at once, it just removes a lot of barriers," says Natalie Newville, the library's assistant director of marketing and development.
But books matter, too. In a bid to engage more readers, the library offers a free subscription service dubbed "Book Box." Children, teens, and adults fill out forms identifying their book preferences and personal interests. Then library selectors do their best to provide matches.
The element of surprise attached to the program has proved popular. "Our circulation numbers have gone up with it," Ms. Newville says. 
That's not the only growth the library is working on.
Claudia Young bows out of a conversation and heads toward a wooden podium set up near the library's front doors. After 27 years working in this library – now as its director – Ms. Young knows many patrons by name. And the person she is about to honor happens to be particularly well known in Jefferson City.
"I'd like to get everyone's attention," she says. "We're going to start the ceremony now for ambassador of the year."
To her right stands Carrie Tergin, who just a week earlier finished her eight-year run as the capital city's mayor. She's receiving the annual ambassador award, given during National Library Week to someone who understands what the library does for the community and shares that message broadly. Ms. Young ticks off a list of the former mayor's supportive acts – everything from attending events to plugging the library in speeches and on social media.
But it will take more than a few ambassadors to steer the library in the direction envisioned by its board and staff. The Missouri River Regional Library is asking voters to approve an increase to the operating levy on the August ballot. If approved, it would amount to an average 2.5% property tax increase for most households. 
The extra money would go toward expanding and renovating the main branch in Jefferson City – which swells each winter and spring as lobbyists and lawmakers converge for the legislative session – and providing more services for the surrounding, mostly rural Cole County. The area it serves counts nearly 77,000 residents.
Architectural renderings stationed around the library depict a bright and airy building with a new third floor and outdoor space on a second-floor rooftop. Inside, library officials say, the modernized building would feature shorter, more accessible bookshelves, new restrooms, dedicated space for job skills development, study rooms, and makerspaces.
If voters give the tax increase a green light, the additional yearly cost per $100,000 of home value would be $28.50.
"The time is right" for an expansion, Ms. Tergin says while accepting her award. "We're going to make it even better."
Her enthusiasm comes amid a backdrop of cultural and political turmoil. Last year, legislation surfaced in 12 states that would permit criminal prosecution of librarians and educators for distributing certain materials to minors, according to the American Library Association, which has condemned the efforts.
In Missouri, the strife stretches back to August when Republican Gov. Mike Parson signed sex-trafficking legislation (Senate Bill 775) into law. It included an amendment that puts school librarians and educators at risk of criminal prosecution if they provide "explicit sexual material" to a student. School librarians, afraid of potentially breaking a law, preemptively began removing books they thought might fall under that broad description.
Then Missouri's secretary of state, Jay Ashcroft, a Republican running for governor, proposed a rule that tied state funding for public libraries to a number of requirements, including that money cannot be used to purchase materials that "appeal to the prurient interest of any minor." It also required libraries to adopt policies providing parental consent for materials checked out by children and teens.
The Missouri Library Association fired back, calling the proposed rule a "solution in search of a problem." The association also noted that a few of the requirements are already best practices within libraries.
The proposed rule, which drew 20,000 public comments, is going into effect with a few modifications. In response to a concern that "prurient" is too vague, for example, the terms "child pornography," "obscene," and "pornographic for minors" are being used instead.
By late February, the American Civil Liberties Union of Missouri filed a lawsuit on behalf of two organizations – the Missouri Library Association and the Missouri Association of School Librarians – challenging the constitutionality of Senate Bill 775.
A month later, the Missouri House Budget Committee removed $4.5 million in state aid to local libraries from the budget bill. Critics blasted it as a retaliatory move that would hurt rural libraries the most. Ultimately, the Legislature passed a budget plan that restored state funding for public libraries.
"It's discouraging, but I am undaunted by it. I believe so much – I'm going to get tearful," Ms. Young says, pausing for a moment. "I believe so much in what we're doing that I don't let it get me down."
Ms. Young grew up in a small Illinois town that couldn't support its own library. A bibliophile at heart, she calls this her dream job. The shelves of books, the room full of computers, the aisle of video games, the 3D printer, and even the cozy chairs – these are the tangible objects that draw patrons to the library. Together they form a social fabric, she says, that strengthens individuals and the community at large.
"People can become the best version of themselves by using the library, whether that's to learn a new skill or have access to information they need," she says.
Jefferson City's name is an ode to Thomas Jefferson, a Founding Father and the nation's third president who famously wrote a letter declaring, "I cannot live without books."
The growing city, however, didn't receive its own public library until the turn of the 20th century. A grant from philanthropist Andrew Carnegie, who contributed to the establishment of nearly 1,700 libraries between 1886 and 1919, helped fund Jefferson City's first public library, which opened in 1902. Today, the Missouri River Regional Library's main branch sits next to that original building.
Last year, 158,520 visitors entered the library, and 445,920 materials were checked out. Recent popular items include Prince Harry's memoir, "Spare"; the movies "A Man Called Otto" and "Everything Everywhere All at Once"; and the novels "Losing Hope" by Colleen Hoover, "Identity" by Nora Roberts, and "Happy Place" by Emily Henry.
But at 10:30 a.m. on this day, those stats take a backseat to preschool story time. Three toddlers and a handful of adults gather in an upstairs meeting room. To the tune of "Wheels on the Bus," Donna Loehner, a youth services programming assistant, reads aloud a picture book called "The Library Doors."
The words mimic what librarians see day in and day out, and as the children catch on, they add their tiny voices to the mix:
The library doors swing
OPEN AND SHUT,
OPEN AND SHUT,
OPEN AND SHUT.
The library doors swing
OPEN AND SHUT
All through the day!
Grace Shaw and her 2-year-old son, Blake, are among the attendees. Ms. Shaw considers the library a safe, positive place where her children can be imaginative and learn about other people and the world around them. As Blake scans a nearby shelf for books about dinosaurs, Ms. Shaw says her family and many of their friends fall on the more conservative side of the political spectrum, but they're big supporters of the library.
"We monitor what our kids read and watch and stuff and just also talk with them through things they read and things that they see in general," she says.
Downstairs, retired accountant Mark Rodabaugh has finished his library to-do list for the day – printing a schedule and looking up a book recommended by a friend. Trips to the YMCA and the library make up the bulk of his weekly routine. 
His take on state library funding being in jeopardy: "It's a horrible thing."
Mr. Rodabaugh shakes his head at the mention of culture wars triggering attempts to pull certain books from shelves. He says one person or group of people shouldn't be dictating what everyone else can read.
Books written by or about people of color and members of the LGBTQ+ community made up the "vast majority" of items challenged or banned last year in libraries across the nation, according to the American Library Association. Forty-eight percent of the challenges occurred in public libraries, and another 41% involved school libraries.
"I have great faith in the library systems that have professional people making these decisions on books," Mr. Rodabaugh says. "And I want that to continue."
In the library's basement, beyond rows of computers in the public business center, staff work behind the scenes taking care of daily operations. An aspect of that mission: selecting materials.
Library staff order new books, video games, and DVDs, among other items, from January through October, Ms. Young says. They use publications such as Library Journal and Publishers Weekly to help them select titles, while also paying attention to bestseller lists and stocking up on the eternally popular romance and Western genres.
The library added roughly 12,500 new items in 2022 and withdrew another 19,618 based on their condition and checkout history. Does every patron like or agree with the views presented in all the books and movies? Certainly not, Ms. Young says. The goal, as stated in the library's collection development policy, is to provide a "diverse and balanced collection of materials."
So far this year, the library has received one challenge concerning a children's picture book, Ms. Young says. Prior to that, the most recent challenge occurred in 2021 – also involving a children's picture book that the petitioner perceived as promoting an LGBTQ+ agenda. In such cases, the person or group initiating the challenge fills out a form requesting reconsideration, which jump-starts a review process involving the selector of that particular material and the collection development manager. If the patron disagrees with the decision, he or she can request to speak with the library's director or, ultimately, board of trustees. 
"Materials are evaluated as complete works and not on the basis of a particular passage," the library policy states. "A work will not be excluded from the library's collection solely because it represents a particular aspect of life, because of frankness of expression, or because it is controversial."
Misinformation and disinformation have led to books about sexuality and reproductive health being "described in the worst terms," says Ms. Caldwell-Stone, of the American Library Association. She worries about what may happen if libraries remain under attack.
"Without libraries, you can't pull yourself up by your bootstraps. Without libraries, you may not be able to access government services, scholarship applications," she says. "We need to just remember that libraries are really essential to the functioning of our economy, our democracy, our very lives."
It's a statement that Ben Franklin very likely would have endorsed. Dr. Barsanti suspects that the famous inventor and statesman, who tried to avoid making blanket statements, would have concluded that "controlling books is doomed to fail."
And as technology and its effect on daily life continue to evolve, particularly with the growing use of artificial intelligence, Dr. Barsanti predicts the role of librarians will become even more important.
"What was already a very wild information environment is just going to get crazier," he says. "And what we will increasingly need are communities that will help us to evaluate the quality of the information we're getting."
As afternoon descends on Jefferson City, new visitors arrive. A mother helps her daughter with schoolwork. Teenagers browse aisles and lounge in an upstairs room dedicated to them. A man snoozes in a chair on the first floor. Even Mr. Ashcroft, the secretary of state, wanders in while chatting in hushed tones on a cellphone.
As long as people aren't making a disturbance or violating a library policy, Ms. Young says, all are welcome to enjoy its quiet solace, access resources and services, or connect with others.
As the clock ticks toward 8 p.m. – when the library will close – 18-year-old Madalynn Sanford is making a flower lantern in a crafting class.
When her family moved to Missouri from Arizona, she began attending the library's teen programming. She made friends here, learned some sewing techniques, and recently transitioned to the adult programs.
"It's definitely a place where I think about a community," she says.
At the same time, Ms. Young, the library director, is several miles away at a Lions Club meeting making a pitch she plans to repeat 24 more times at various community organization meetings until the polls open Aug. 8. She says it's time for the library, and the services it offers in rural areas, to grow.
"We want to dream bigger."