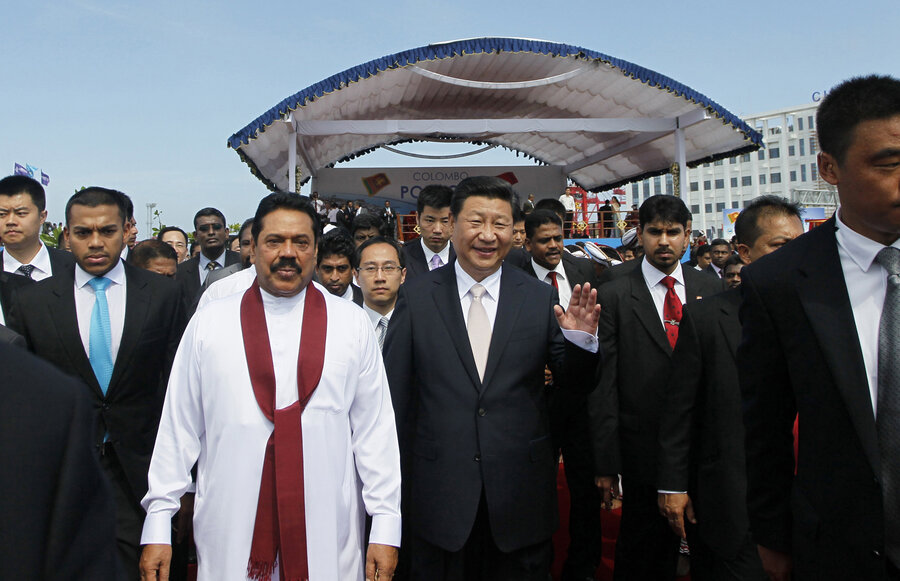 A dozen poor countries are facing economic instability and even collapse because of a common, undeniable factor: their struggle to pay back hundreds of billions of dollars in foreign loans, much of them from the world's biggest and most unforgiving government lender, China.
Here are the key takeaways:
Too much debt
An analysis by The Associated Press of a dozen countries most indebted to China – including Pakistan, Kenya, Zambia, and Laos – found the debt is consuming an ever-greater amount of tax revenue needed to keep schools open, provide electricity, and pay for food and fuel. And it's draining the foreign currency reserves such economies depend upon to pay interest on the loans and stave off collapse, leaving some with just months before the money is gone.
Behind the scenes is China's reluctance to forgive the debt and its extreme secrecy about how much money it has actually loaned and on what terms, which has kept other major lenders from stepping in to help. On top of that is the discovery that borrowers have been required to put cash in hidden escrow accounts that push China to the front of the line of creditors to be paid.
Two of the countries, Zambia and Sri Lanka, have already gone into default, unable to make even interest payments on loans financing ports, mines, and power plants.
Experts predict that unless China quickly begins to soften its stance on not taking big losses on its loans, there could be a wave of more defaults and political upheavals.
"In a lot of the world, the clock has hit midnight," said Harvard economist Ken Rogoff.
Poverty and revolt
For many highly indebted countries, the future could look a lot like Sri Lanka.
Rioters last year poured into Sri Lanka's streets, storming the presidential palace and sending the leader tied to onerous deals with China fleeing the country. A half-million industrial jobs have vanished, inflation pierced 50%, and more than half the population in many parts of the country has fallen into poverty.
Anger and frustration are palpable in other countries, too.
In Pakistan, millions of textile workers have been laid off because it has too much foreign debt and can't afford to keep the electricity on and machines running.
In Kenya, the government has held back paychecks to thousands of civil service workers to save cash to pay foreign loans. Tweeted the president's chief economic adviser last month, "Salaries or default? Take your pick."
How did it get this bad?
Many Chinese loans to poor countries have only come to light recently through the work of researchers, most prominently Brad Parks of AidData at William & Mary. He found billions in Chinese loans never appeared on countries' books because they were made not to governments directly but to offshore shell companies. Some loans appear as foreign currency swaps. All of it showed many countries were in far worse shape than anyone knew.
These countries were then hit with two unexpected events that helped inch them closer to collapse: the war in Ukraine, which has sent prices of grains and oil soaring, and the United States Federal Reserve's decision to raise interest rates that have made loans much more expensive.
China's response
The Chinese Ministry of Foreign Affairs, in a statement to the AP, disputed the notion that China is an unforgiving lender and echoed previous statements putting the blame on the Federal Reserve. It said that if it is to accede to International Monetary Fund and World Bank demands to forgive a portion of its loans, so do those multilateral lenders, which it views as U.S. proxies.
China argues it has offered relief in the form of extended loan maturities and emergency loans and as the biggest contributor to a program to temporarily suspend interest payments during the coronavirus pandemic. It also says it has forgiven 23 no-interest loans to African countries, though AidData's Parks said such loans are mostly from two decades ago and amount to less than 5% of the total it has lent.
The demand that the IMF and World Bank also forgive loans would rip up the traditional playbook of dealing with sovereign crises, which generally spares them special treatment because, unlike Chinese banks, they already finance at low rates to help distressed countries get back on their feet.
This story was reported by The Associated Press.