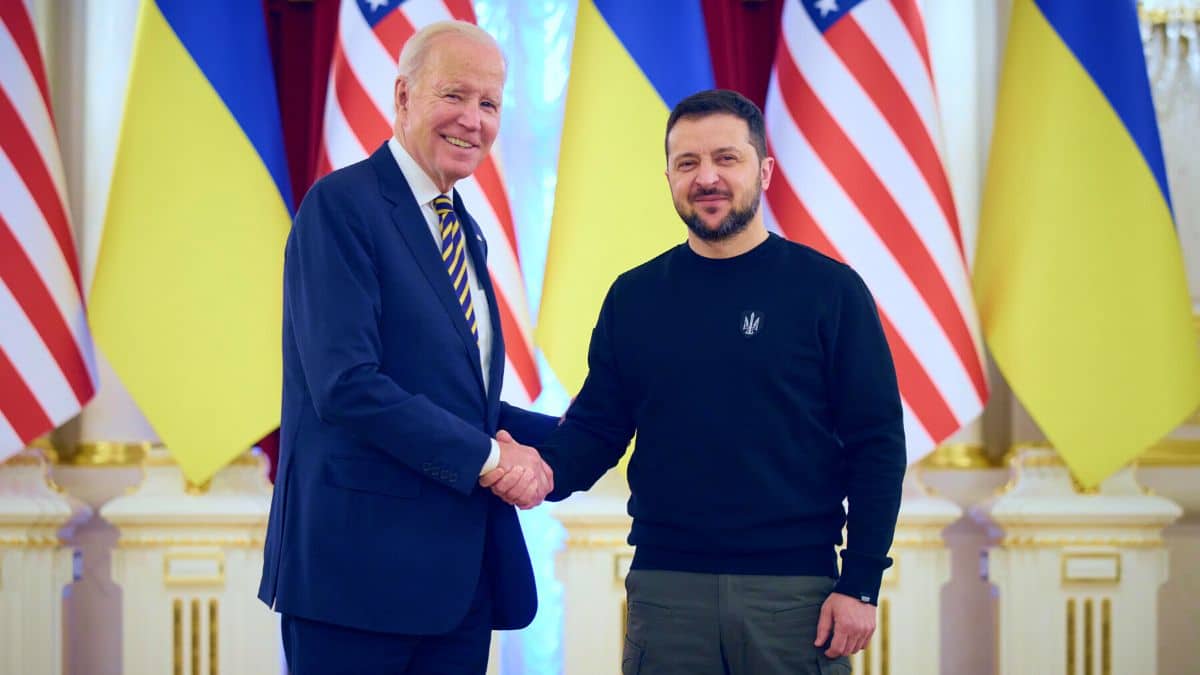 Famed investigative journalist Seymour Hersh, writing on his Substack, has shed light on a complex situation unfolding in Eastern Europe.
The Ukraine refugee crisis has escalated, drawing the attention of Ukraine's neighbors, who are urging President Volodymyr Zelensky to seek peace as millions of displaced people flow into Europe.
Hersh reveals that Ukraine's president, Zelensky, had been working behind the back of the Biden White House earlier this year, pushing for an expanded series of missile attacks inside Russia.
He cited a Washington Post exposé of classified American intelligence documents, stating, "Zelensky, working behind the back of the Biden White House, pushed hard earlier this year for an expanded series of missile attacks inside Russia."
According to Hersh, despite Zelensky's provocative actions, the Biden administration continues to support him.
A senior official of the Biden administration, responding to the newly revealed intelligence, stated that Zelensky "has never violated his pledge never to use American weapons to strike inside Russia."
Hersh critically remarks, "In the view of the White House, Zelensky can do no wrong."
Moreover, Hersh reports that Zelensky's aggressive stance towards Russia seems to be misunderstood by the White House, even as the American intelligence community struggles to voice their assessments.
He writes that Zelensky's "desire to take the war to Russia may not be clear to the president and senior foreign policy aides in the White House, but it is to those in the American intelligence community."
Despite the escalating conflict, there seems to be a lack of interest in pursuing ceasefire talks among the powers involved, drawing comparisons from Hersh to historical conflicts, "The slaughter in the city of Bakhmut continues. It is similar in idiocy, if not in numbers, to the slaughter in Verdun and the Somme during World War I."
As Hersh reports, a collective push for peace is brewing among Ukraine's allies, including Poland, Hungary, Lithuania, Estonia, the Czech Republic, and Latvia.
He states, "This group is led by Poland…it has been quietly urging Zelensky to find a way to end the war—even by resigning himself, if necessary—and to allow the process of rebuilding his nation to get under way."
Despite the mounting pressure, Hersh concludes that Zelensky appears unyielding.
He writes, "Zelensky is not budging, according to intercepts and other data known inside the Central Intelligence Agency, but he is beginning to lose the private support of his neighbors."
Hersh's revelations paint a picture of a leader under increasing pressure, both internally and externally, to resolve a crisis that is impacting not just his country, but the wider European region.
Back in February, Hersh (85) claimed that the bombing of the Nord Stream underwater gas pipelines in the Baltic Sea was a covert operation orchestrated by the White House and carried out by the CIA.
The Nord Stream 1 and 2 pipelines were destroyed in a series of powerful explosions in September 2022.
The Pulitzer Prize-winning reporter alleged that U.S. deep-sea divers used a NATO military exercise as a cover to plant mines along the pipelines, which were later detonated remotely.
According to Hersh, President Biden ordered the sabotage in cooperation with Norway.