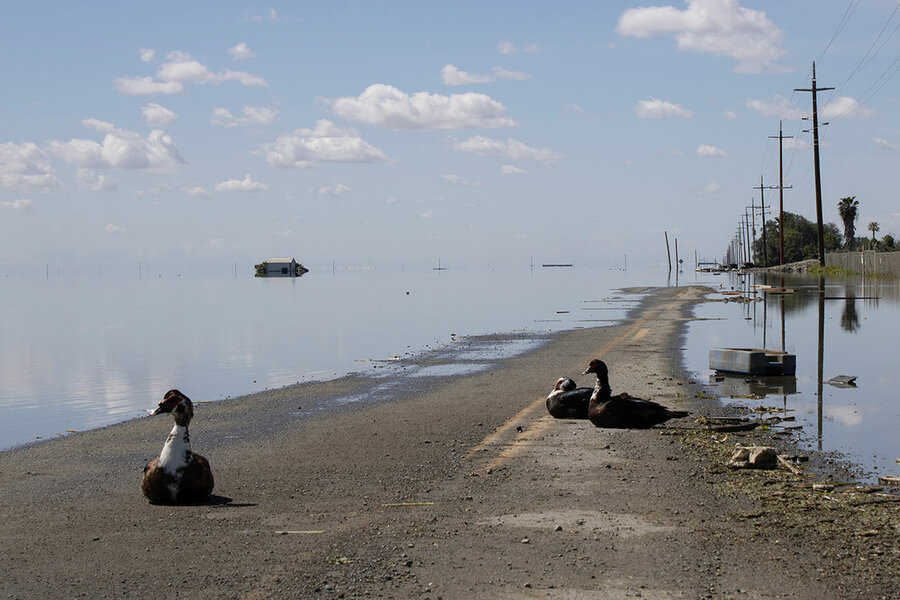 The water stretches all the way to the horizon, white clouds reflected on its surface, as shorebirds caw and fish jump. Looking at it now, it's hard to believe that only two months ago, there was no lake here at all.
Until recently, this land was covered with pistachio trees – acres of them, along with cotton, tomatoes, and other crops. Now it's all under water, with just a few half-submerged tractors and the roof of a shed hinting at what the fields around Corcoran looked like before 2023's record rainfall.
"Everyone was praying for rain, and now everyone's praying for it to stop," says Corcoran Deputy Police Chief Gary Cramer. He briefly excuses himself to stop some people from driving past the "closed road" sign. "Every time I come out here," he adds, "the water just gets higher." 
Why We Wrote This
A story focused on
Tulare Lake, which didn't exist mere months ago, could overwhelm a town and two state prisons. To meet the challenge, local, state, and even federal agencies are having to work together.
Since Tulare Lake appeared this spring, it has grown to 100 square miles – making it one of California's top five largest lakes. And it's about to get bigger. 
As the weather warms, causing this year's record snowpack to run down from the Sierra Nevada – "The Big Melt," as scientists and locals alike nervously call it – four of the rushing rivers will end right here. In preparation, trucks are throwing up clouds of dust while driving across a 14½-mile-long levee, hurriedly reinforcing the last defense protecting Corcoran's downtown and two of the state's largest prisons. Farther in the distance, crews rescue valuable equipment from telephone poles before they, too, slip under water.
"We know the size of the lake is going to grow," says Karla Nemeth, director of California's Department of Water Resources. "It's a matter of how much."
Much will depend on how fast the snow melts and how much water can be absorbed into communities and reservoirs upstream. But one thing is clear: Preventing the lake from overtaking Corcoran and the surrounding towns in the Tulare Basin is an all-hands-on-deck kind of event that requires cooperation. Local, state, and federal agencies will have to work together to raise levees, manage reservoirs, contain environmental damage, and communicate emergencies – a level of coordination that hasn't always existed between the conservative valley, home to Republicans like U.S. House Speaker Kevin McCarthy, and Democrats governing the state from the capital of Sacramento.
Some locals still insist they don't really need outside help to manage the flooding. Others criticize Sacramento for being slow to come to their aid. State officials, for their part, say local distrust – and a willful blindness toward climate change – have hampered communication and action. 
But as Tulare Lake grows, it's forcing a reset. Recently, California Gov. Gavin Newsom announced that the state is more than doubling its investment in the area, bringing the total up to $500 million. The Federal Emergency Management Agency has established a Disaster Recovery Center in Tulare County, a "one-stop shop," where state and federal agencies each have their own foldout tables with pamphlets on aid.
And as they stare down a crisis, many here are reluctantly grateful for the help. 
"It's about flexing that cooperation muscle," says Ms. Nemeth. "We are a very politically diverse state, which is a challenge with water management. … If we collectively have the courage to reckon with these extremes of both drought and flood, then we can all make better decisions. No one likes to deal with this stuff on the fly." 
Weather whiplash
Longtime locals say they always knew there was a chance this "ghost lake" could reappear. Some here remember the last two times the lake formed, in 1969 and 1983. Others have only heard the stories.
Jacob Figueroa, who opened Lake Bottom Brewery & Distillery in Corcoran in 2019 when "there was no water around," had heard about the lake from his father and grandfather. "We're a little nervous [about the flooding]. This is our business, our livelihood," says Mr. Figueroa. "It sucks, but we were in a drought for so many years."
This sense of weather whiplash is common around town. Donna Benson, whose backyard abuts the Kings River, has hosted family reunions for years. She flips through old photos on her phone: family members sunning on her dock, children swimming in the river with plastic-foam noodles. But over the past three years, which were the driest on record for California, the riverbed dried up. She bought a slip-and-slide for the children.
That all changed this spring. A relentless series of "atmospheric rivers" – corridors of moisture coming up from the tropics – dumped massive amounts of rain on California.
Kings County experienced flooding in places "we never would have imagined," says Greg Gatzka, the city manager of Corcoran, which is in Kings County.
In the space of four months, the San Joaquin Valley went from a "D4 Exceptional Drought" classification, the most serious status assigned by the national drought warning system, to a green shading on the map, which confirms no drought status whatsoever.
Officials have prohibited residents from swimming in the now-rushing Kings River, upending Ms. Benson's annual reunion yet again. Seepage – water coming through and beneath the dirt levee – has turned her backyard into a muddy swamp, and her dock is partially submerged by the rising river.
"In the future, with climate change, we may get wetter wet years and drier dry years," says Thomas Harmon, director of the Sierra Nevada Research Institute at the University of California, Merced. 
Most years, the Tulare Basin uses more groundwater than gets replenished, which causes subsidence – a gradual sinking of the land that makes the area act like a bathtub. And because the earth beneath the basin is thick clay, scientists characterize it as a bathtub without a drain. Even in a best-case scenario, the current lake is expected to stick around for at least two years. 
"The land wants to be a lake," says Mr. Harmon.
That's because for hundreds of thousands of years, it was. Despite being known these days mostly for droughts and water wars, this swath of central California between Fresno and Bakersfield is actually a wetland at heart. Before a chain of dams was built to ensure year-round water for California's agriculture and booming population, rivers from the Sierra Nevada rushed downhill unimpeded and met up in this same low-elevation dish: Tulare Lake, once the largest body of fresh water west of the Mississippi. 
When Spanish explorers discovered the lake with its endless marshes, they gave it the name Los Tules, a derivative of the Spanish word for reeds. Old black-and-white photos show pioneers camping along its banks. Woolly mammoths and mastodons, whose bones have been found in nearby soil, likely drank from its shores.
But by the early 20th century, California's water infrastructure project had begun in earnest. And by the 1960s, the U.S. Army Corps of Engineers had dammed all four of the rivers – the Kings, Kaweah, Tule, and Kern – that run from the Sierra Nevada to the Tulare Basin. 
The alteration to the landscape had real costs. Estimates suggest the San Joaquin Valley has lost 95% of both its original wetlands and riparian woodlands, endangering many species, particularly birds. But it also has had real benefits: The Central Valley today produces one-quarter of America's food, including 40% of the country's fruits and nuts. It makes the San Joaquin Valley, as it was aptly described by the late historian Kevin Starr, "the most productive unnatural landscape in the world." 
And Corcoran, where a sign welcomes visitors to the "Farming Capital of California," is its nucleus. 
A culture of distrust
The Corcoran-based J.G. Boswell Co., whose founder created California's first giant agribusiness, lobbied years ago for the dams and the subsequent draining of the lake. Today, the company's neat rows of pistachio trees grow directly behind the levee, while the farm of the local Hansen family sits submerged on the other side. This discrepancy has been a source of local contention, with some farmers claiming that certain levee breaches and the flooding of some land were intentional. 
Others say Boswell's presence ensures their safety: They aren't worried about the floods because they know Boswell has an interest in making sure the levees don't fail. Boswell has been "our biggest savior in all of this," says Mr. Gatzka, the city manager. He unrolls a survey map of the Corcoran levee that the company provided, pointing out elevations that will need to be raised.
The levee surrounding Corcoran's downtown and the prison system is 188 feet above sea level; the water currently sloshing up its sides reaches to 179 feet. The state has finally agreed, says Mr. Gatzka with a sigh, to raise the levee up 4 feet, to 192. 
"Trying to get the state and a federal agency to prioritize funding is very difficult," says Mr. Gatzka. "They are all oriented around disaster recovery, and we can't afford to wait. When you look up at those mountains, and you see all that snowpack, we know it's coming down here."
Despite two local reservoirs reaching or surpassing their capacity during March's heavy rains, all four, which are carefully managed with periodic releases, now have room to absorb incoming water from The Big Melt. 
Even then, it may not be enough. California's mountains are holding 300% to 400% more snow than normal, much of it at lower elevations – meaning the snow will melt faster than at higher, colder temperatures. The severity of the flooding will depend on if – or when – a heat wave occurs. 
"The state says this area is a black hole," says Mr. Gatzka, circling his town and the lake basin on a map. "And it has been, because it hasn't been prioritized." 
That's because the state hasn't been granted access, responds Ms. Nemeth. Back in 2007 when California was drafting its Central Valley Flood Protection Plan, the four counties in the Tulare Basin – Tulare, Kings, Kern, and Fresno – opted out of participating.
That decision was likely influenced by a "general political culture about not wanting to give information to the government," says Ms. Nemeth. Mr. Gatzka confirms as much, saying the plan was just "another board with its own priorities." 
But this management system would have allowed the state to periodically gather data, says Ms. Nemeth, rather than being "entirely reliant on the counties" to provide updates. She contrasts the current situation in the basin with what's going on in other Central Valley counties, most of which are having a "different experience" with flooding because the state already knew about levee soft spots and areas with significant subsidence. 
"A decade-plus on, we are seeing the implication of not being part of that planning process," says Ms. Nemeth. "Had they been involved in the plan, we would all know each other."
Spirit of self-reliance
Among some locals, resentment toward state government, deep with age like the Tulare Basin, still lingers. Two-lane farming roads crisscross the valley, intersecting at four-way stops where tractor beds are parked with posters that read "Make California Great Again" and "Dam Water Grows Food."
Several people insist the state dragged its feet on levee aid because Democratic state leaders saw little benefit to helping this Republican pocket. Folks here scoff at liberals in cities who want to save little-known endangered species – like a 2-inch fish called the delta smelt – while denying farmers the water they need to put food on the nation's tables. 
"It's intentional, in my view," says local resident Ronald Caetano, of the area's drought and flood cycles, maintaining that the rivers always seemed to flow steadily when he was a child. "A lot of California's drought in the valley is man-made."
Mr. Caetano, who owns a trucking company, created a "community flood watch" Facebook group for the Island District, an area that's surrounded by the Kings River. Neighbors post daily to the group's more than 1,000 members, warning of closed roads, offering trench-digging equipment, and sharing photos – a testament to this area's can-do spirit and sense of self-reliance.
Island District neighbors have also been keeping in touch through the Island Property Protection Association, whose homepage states, "No call for help will ever be unanswered." Resident Tony Oliveira founded the group after the 1969 flooding and reactivated it during the 1983 flood and again this March.
Communication is easier this time around with cellphones and a website, Mr. Oliveira remarks, standing in the backyard of Tom and Denise Taylor, which abuts the Kings River.
Mr. Taylor's boots are muddy from installing a new pump to move water away from his house and horse farm, where half the fields are out of commission due to standing water. He points to a neighbor on a nearby tractor who helped them dig a moatlike trench in their backyard the other day. Ms. Taylor, who wakes every morning afraid she'll find her horses chest-deep in water, has decided to start moving some of them to a neighbor's paddock with a higher elevation. 
Mr. Oliveira explains a new phone tree that his group is setting up. If a levee breaks, local officials will tell the team captains, who will then spread the word to others. This kind of response can only be effectively handled at the local level, he and the Taylors agree. 
"Local governments are run by your sister, your brother, your neighbor, your friend. They have a vested interest," says Mr. Oliveira. "Local, local, local," he emphasizes, pointing to his phone, where he just got a text from someone at a local resource management agency with the recent flow numbers from the Pine Flat Dam. The Island District, and its collective approach to combating this year's flooding, is the "epitome" of rural California, he says.
Still, many here are also beginning to recognize the limits to what they can do on their own – especially as they look ahead.
"We're preparing for the worst, because that's what you have to do, but we'll be all right. It's next year that I'm worried about," says Deputy Chief Cramer. Predictions of an El Niño winter could mean more heavy precipitation across central and Southern California.
And rather than starting the season with an empty basin, they will still have Tulare Lake, which will have spent months sloshing against – and wearing down – the levees. 
But they could also start the season with a newfound appreciation for cross-government cooperation.
"It's very apparent that we in the lake bottom need to be in closer partnership with the communities upstream," says Mr. Gatzka. "That's starting to happen now."