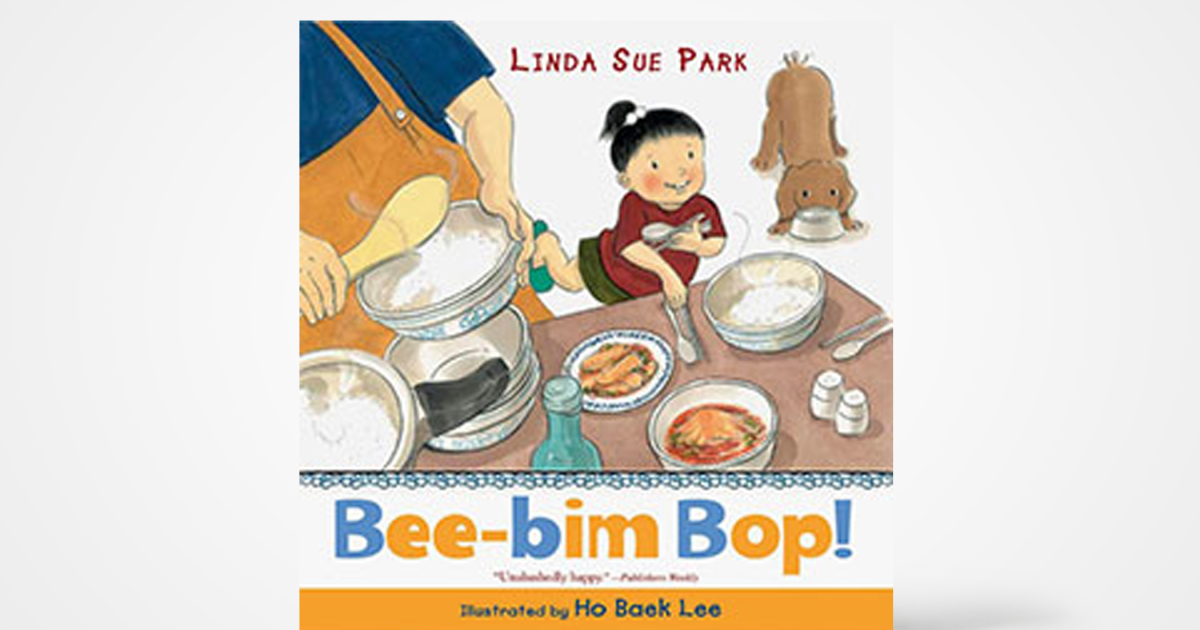 As a Korean American mother of two, I've made it a priority to fill our shelves at home with children's books that celebrate Asian American stories and cultures. 
Over the years, a few titles have stood out as favorites. Here are five books that my children request to read over and over again. 
Bee-bim bop!, by Linda Sue Park, illustrated by Ho Baek Lee
A little girl helps her mother prepare the iconic Korean dish, bee-bim-bop, from shopping for ingredients to setting the table. Newbery Medalist Linda Sue Park's fun rhymes and onomatopoeia, along with Ho Baek Lee's illustrations, bring the process to life while also capturing the precious bonds of family. Recipe included!
Goldy Luck and the Three Pandas, by Natasha Yim, illustrated by Grace Zong
After a series of unlucky events befall her at the Chans' house, can Goldy Luck help make things right with her panda neighbors in time for the Chinese New Year? Natasha Yim's eye for cultural details, along with a satisfying resolution, make this an excellent adaptation of the classic story.
Tiptoe Tapirs, by Hanmin Kim
Long ago, the animals were not quiet like they are today. They were very loud! All except for Tapir and Little Tapir. When a hunter comes to shoot the animals, Little Tapir's quiet courage saves the life of a leopard—and perhaps even the whole jungle. Accompanied with unique pen-and-ink watercolor illustrations, author Hanmin Kim champions the power of gentleness in one of our family's favorites.
Dumpling Soup, by Jama Kim Rattigan, illustrated by Lillian Hsu-Flanders
On the island of Oahu in Hawaii, the Yang family is gathering to celebrate the New Year, and it's Marisa's first time helping to make dumpling soup. Only she just can't seem to get it right. Will her grandma, cousins, aunts, and uncles like her dumplings? This story by Jama Kim Rattigan captures the bustle and warmth of a family gathering while also celebrating the small but significant milestones of childhood.
Yoko, by Rosemary Wells
When Yoko brings sushi to school for lunch, her classmates tease her. Rosemary Wells' Yoko is not afraid to take on the difficulties of learning to respect one another's differences in the classroom, and its tender conclusion is not to be missed. For those who want more, check out the other books in the Yoko series.