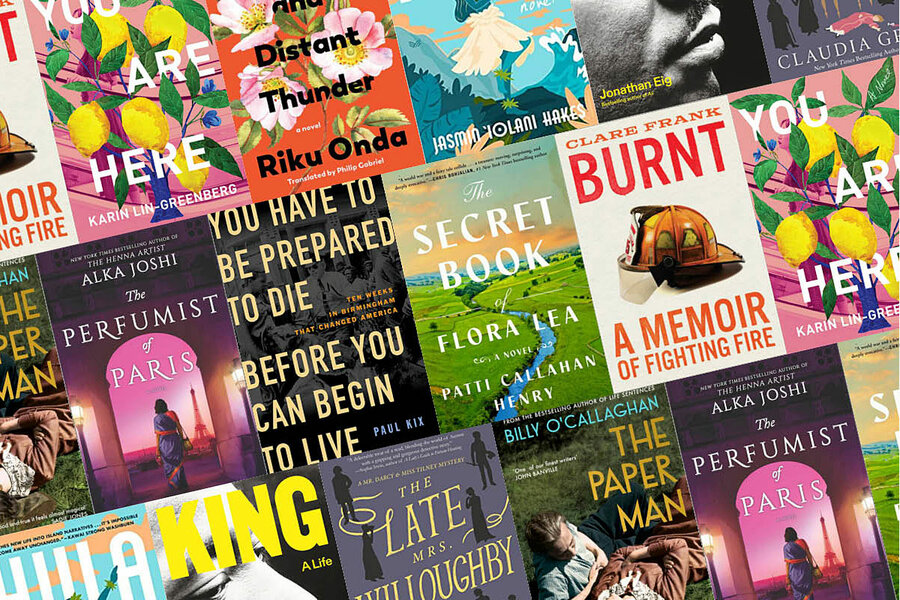 "Now is the time to lift our nation from the quicksands of racial injustice to the solid rock of brotherhood," Martin Luther King Jr. intoned from the steps of the Lincoln Memorial in Washington. "Now is the time to make justice a reality for all of God's children," he urged in what became known as the "I Have a Dream" speech.
It was 1963, a pivotal year for the Civil Rights Movement. Two May books, including a major new biography of MLK, delve into landmark events of the '60s, including the campaign to end segregation in Birmingham, Alabama. The courage and determination displayed by Black leaders, as well as by the foot soldiers of the movement, continue to instruct and inspire. 
Why We Wrote This
A story focused on
Our 10 picks for this month feature an absorbing biography of Martin Luther King Jr., an illuminating memoir of a female firefighter, and engaging novels that celebrate family ties, friendship, and forgiveness.
Bravery, and confounding expectations, played a role in the success of a path-breaking female firefighter, who tells the story of her rise from rookie to one of the highest-ranking fire chiefs in California.     
Among the fiction offerings are novels that celebrate not only the enduring power of community but also family reconciliation and forgiveness. And, on the lighter side, a mystery with characters drawn from Jane Austen's books provides witty dialogue (what else?) and a slow-simmering romance. 
1 King: A Life, by Jonathan Eig
This major new biography of Martin Luther King Jr. benefits from a trove of newly available sources, from declassified FBI files to recently discovered audiotapes recorded by King's widow, Coretta Scott King. In elegant prose, Eig presents King in full, capturing both the heroism and the frailties of the civil rights icon.
2 You Have To Be Prepared To Die Before You Can Begin To Live, by Paul Kix
Why We Wrote This
A story focused on
Our 10 picks for this month feature an absorbing biography of Martin Luther King Jr., an illuminating memoir of a female firefighter, and engaging novels that celebrate family ties, friendship, and forgiveness.
Journalist Paul Kix has written a riveting account of the Southern Christian Leadership Conference's daring 1963 campaign to dismantle segregation in Birmingham, Alabama. He describes the courage not only of celebrated movement leaders like Martin Luther King Jr. but also of everyday men, women, and children fighting for racial equality.
3 Burnt: A Memoir of Fighting Fire, by Clare Frank
The path to becoming a firefighter is arduous, especially for a young woman who must contend with gear scaled to fit men, as well as colleagues who believe women should not do this work watching for any misstep. None of this stopped Clare Frank, who recounts her climb from underage rookie to one of California's highest-ranking fire chiefs. 
4 The Perfumist of Paris, by Alka Joshi
The glorious finale to the Jaipur Trilogy ("The Henna Artist") finds Rhada living in 1976 Paris, wife to an architect, mother to two daughters and a secret son she left in India. Rhada's emotionally charged past upends her world. Rich in evocative French and Indian cultures, "The Perfumist of Paris" celebrates artistic spirit and familial reconciliation.
5 You Are Here, by Karin Lin-Greenberg
At a moribund mall in Albany, a restless hairdresser, her magic-loving son, a cranky bigot, and a shlumpy young father work, shop, … and judge. Then a shooting pierces the listless routine. Well-drawn characters, spot-on dialogue, and an emphasis on the sustaining power of community make this kindhearted debut a winner.
6 Honeybees and Distant Thunder, by Riku Onda, translated by Philip Gabriel
In Yoshigae, Japan, musicians gather for a high-stakes piano competition. Cosmopolitan Masaru, former prodigy Aya, modest Akashi, and unsettling Jin all vie for prizes. As points of view shift, the event's intense emotions and rivalries come alive. Onda's lilting, lovely tale celebrates the classical canon and friendships that flower among competitors.
7 Hula, by Jasmin 'Iolani Hakes
It's 1968, and Laka, a hula dancing legend, has returned to the Big Island after two years, a pale baby in her arms. Hakes' vigorous saga, filled with the stories of hula and the hurts of history, astonishes. "We are not landscape, shadows in a postcard," the narrator insists, a truth the novel makes clear.
8 The Paper Man, by Billy O'Callaghan
Irishman Jack Shine, orphaned at 11, excavates the history of his parents' romance in 1938 Vienna. As clues emerge about his father Matthias, a genius footballer, and his mother Rebekah, a Jewish woman, Jack's world upends. O'Callaghan writes beautifully, whether enraptured by Matthias' gameplay or urging forgiveness for one's ancestors. 
9 The Late Mrs. Willoughby, by Claudia Gray
Two scions of Jane Austen's romances, Jonathan Darcy and Juliet Tilney, team up to clear Marianne Brandon's name in Claudia Gray's elegantly appointed sequel to "The Murder of Mr. Wickham." Witty observations abound, as do suspects. The romance between our very proper sleuths is not quite a slow burn – more a sedate simmer. The solution lies in past hurts. As Jonathan says, "Resentment is, I believe, an even more insidious poison than arsenic."
10 The Secret Book of Flora Lea, by Patti Callahan Henry
Evacuated from London during the Blitz, sisters Hazel and Flora create Whisperwood, an enchanting land that brings them strength, until Flora disappears. Twenty years later, Hazel discovers a fairytale book that might hold the key to finding Flora. The novel is a fascinating ode to storytelling, family, first love, and resilient hearts.