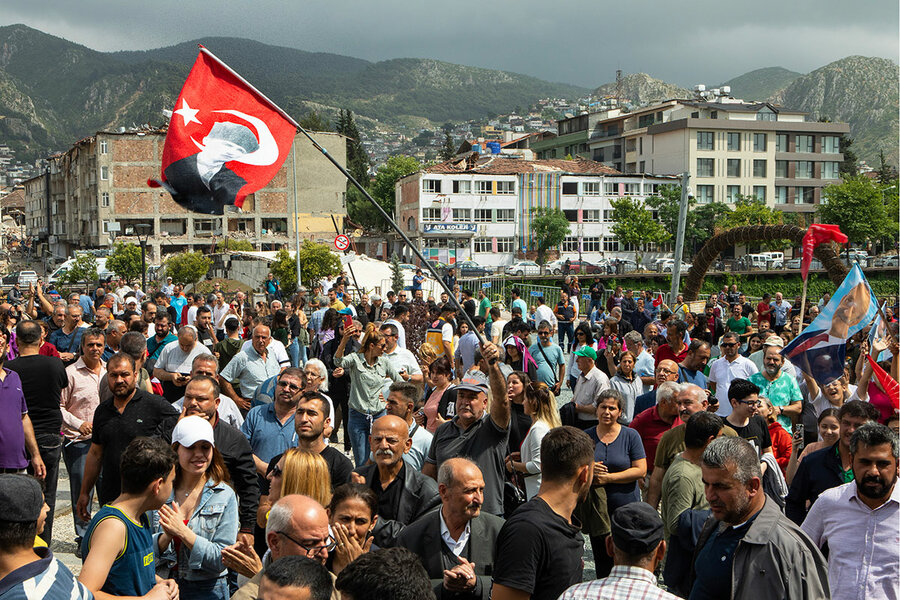 If Turkish President Recep Tayyip Erdoğan wins reelection on Sunday, as he is expected to do, it will in large part be because of his popularity among victims of last February's earthquakes.
Pundits had predicted that a bungled relief operation and revelations of lax building codes would cost Mr. Erdoğan dearly among survivors of the quakes, which killed more than 50,000 people. But they have stayed loyal. In the first round of parliamentary elections two weeks ago, the ruling party won in 10 of the 11 provinces hit by the quakes.
Why We Wrote This
A story focused on
Pundits predicted that earthquake victims would take out their anger on President Erdoğan. They were wrong. In Turkey, political preferences have hardened into polarized identities.
Why did voters confound the predictions of experts? In the end, the explanation can be found, it seems, in Turkey's polarization – a striking feature of Mr. Erdoğan's controversial rule.
The president's opponents, disappointed by the first-round election results, were vociferous in their criticism of quake survivors for supporting Mr. Erdoğan. That rankled with the victims.
But most importantly, much of the earthquake zone has traditionally been political territory that belongs to the ruling AKP party. And in a polarized society like Turkey, says political science professor Emre Erdoğan, "political preferences have turned into identities."
Meryem Eger has suffered more than most mothers. 
When her apartment in downtown Antakya began to crumble during the 7.8-magnitude earthquake on Feb. 6, and furniture blocked the way out, she thought she'd never see her family again.
In fact, they all survived. But her husband lost his job as a driver. Her son, partially deaf, lost his medical treatment. Her daughter is still out of high school. Today the four live in a tent, in the hills above this southern Turkish city, where many homeless fled, preferring the security of the rocky outcrop to the soft earth of the valley below.
Why We Wrote This
A story focused on
Pundits predicted that earthquake victims would take out their anger on President Erdoğan. They were wrong. In Turkey, political preferences have hardened into polarized identities.
Given the hardships they are facing, Ms. Eger and her new neighbors might have been expected to vote against President Recep Tayyip Erdoğan at elections two weeks ago. It turned out, though, that far more earthquake survivors than predicted cast their votes for the president – helping to prolong the race to a second round this Sunday.
Their votes drew harsh criticism from President Erdoğan's opponents, and Ms. Eger feels unfairly targeted. "When we saw bad words about us, we felt deep pain," Ms. Eger says. "To live through what we have experienced, I wish to God nobody ever experiences this."
The blame game has served to reinforce the polarization that has defined Turkey under Mr. Erdoğan's leadership, even after the February earthquakes killed more than 50,000 people and spread shared grief across ethnic and political lines. And it helps explain why Erdoğan loyalists still predominate in the hills of Antakya despite the president's authoritarian grip – and despite his government's responsibility for lax construction regulations and a chaotic emergency response that exacerbated the disaster.
"This is a very divided country, right down the middle," says Aslı Aydıntaşbaş, a Turkish analyst at the Brookings Institution in Washington. "People who have hated Erdoğan have come to see it as just a story of utter failure," while his supporters have "bought the narrative that this is God-given … and that Erdoğan is doing his best."
In the chasm between the two lies an enormous potential for misunderstanding.
Defying expectations
Political observers initially thought that the earthquakes' impact, turning victims against the authorities, might finally usher in change after 20 years of Mr. Erdoğan's rule. In the run-up to presidential and parliamentary elections, polls showed Mr. Erdoğan's national support slipping amid economic woes, including high inflation.
Instead, President Erdoğan's Justice and Development Party (AKP) came out on top in parliamentary elections in 10 of 11 provinces hit by the quakes. In Hatay province, of which Antakya (once known as Antioch) is the capital, Mr. Erdoğan failed to secure an outright majority of the votes by only five-hundredths of a percentage point.
Nationally he prevailed with 49.5% of the vote over 44.9% for his opponent Kemal Kılıçdaroğlu of the opposition Republican People's Party (CHP). That made Antakya campaign territory this week.
Here the AKP is the face of relief efforts. Mr. Erdoğan visited Antakya last Sunday to inaugurate a new hospital and a container city. "Despite what they say," he told the crowd, "your government is here for you."
Mr. Erdoğan has promised to rebuild everybody's homes within a year – a goal everyone wants to believe in but which most experts consider unrealistic with hundreds of thousands still homeless.
As recovery grinds into a fourth month, Mehmet Güzelmansur, a national assemblyman for the CHP in Hatay province, faults the AKP for making promises it can't keep. But they are attractive promises and Mr. Erdoğan is a familiar face. "The people know Erdoğan," he says. "They hear Erdoğan is going to construct new houses," and they trust him.
That message is carried across a media landscape that is largely controlled by the government, say observers. Mr. Erdoğan cracked down on dissent after a 2016 coup and changed the way Turkey is governed, from a parliamentary democracy to a presidential system that has consolidated power in the hands of the executive. 
"The media portray the government as an effective political party providing the citizens in the region with relief," says Berk Esen, a professor of comparative politics at Sabancı University.
It seems to work. "He is doing everything for the south," says Mehmet Hilmi Bilge, a retired construction worker who lost his home and is now living in a container. "The container has everything I need," he adds. "It's much better than a tent."
But perhaps the real explanation of why the AKP came out on top in the first round of elections in the earthquake zone overall is simply that much of the region has long been traditional AKP territory. And as in the United States and Brazil today, "political preferences have turned into identities," says Emre Erdoğan, a professor of political science at Istanbul Bilgi University.
On the shores of the Orontes River in Antakya's Atatürk Park – named after the founder of modern Turkey, who secularized the country and sought closer ties to Europe – Mr. Kılıçdaroğlu addressed his many supporters on Tuesday against the backdrop of near complete ruins, promising honesty and democratization. Supporters chanted back: "The hope of young people – Kılıçdaroğlu!"
"We want our freedom as women," says nursing graduate Ayça Dal, attending the rally with her family and friends who also say they want Islam to play a less significant role in Turkish politics.
But their vision is starkly different from that commonly found in poorer neighborhoods, in surrounding mountain towns and heartland provinces, where conservative religious voters have long made up President Erdoğan's intensely loyal base.
When the president called the earthquakes "part of destiny's plan," many dismissed it as a crude political ploy, but others found solace in it. "They have a lot of trauma to deal with," Professor Erdoğan says, "and maybe religion helps them."
At the mercy of aid
Sultan Eroğlu's hillside house is only moderately damaged. But Ms. Eroğlu is so fearful that a new tremor will destroy it that she has pitched a tent outside the family home for herself and her husband, young son, and elderly mother-in-law. It's just up the sidewalk from where Ms. Eger's tent stands.
A deeply pious woman, Ms. Eroğlu is angered by those who posted messages on social media after the first round of elections declaring that they would no longer support earthquake victims who had voted for President Erdoğan. "We are at the mercy of those who help us," she says.
In fact, the women here on a recent day, who care for each other's children, feel forgotten; the elections are far from their minds. Ms. Eroğlu holds a baby who was just 10 days old when the earthquakes struck. She is preoccupied with the care of her own 9-year-old son, whose spinal problems prevent him from walking properly.
As she speaks, a truck arrives to distribute boxes of diapers, baby food, and staples like rice. No one seems to know, or care, about the politics behind the aid, which has come from a city on the other side of the country. 
And yet her vote for Mr. Erdoğan is instinctive, without any fuller explanation than her conviction that he is the man to defend their interests as they try to restore their lives. "He," she says, "is the one who will support us."