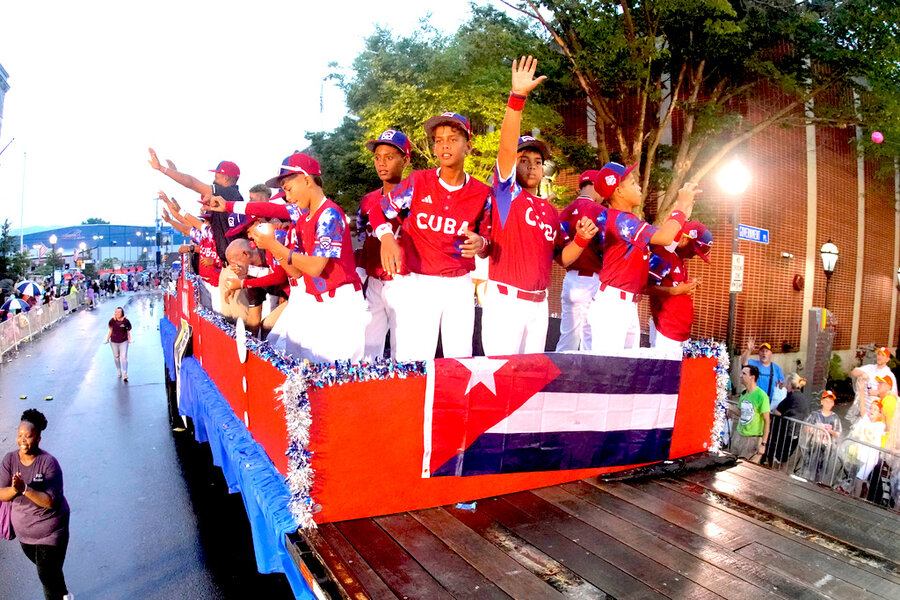 For the first time in a tournament dating back to 1947, Cubans are playing in the Little League World Series in the United States. Their participation marks a triumph of the persistent human desire to forge healing connections across geopolitical divides.
"Sports and the arts can offer an alternative, a better example of relations between two countries," said Daniel Montero, a Cuban filmmaker and co-director of a short documentary on the young players. After decades of enmity between Washington and Havana and more recent seesaw attempts at reconciliation, he told the journalism website Latino Rebels, "it just feels good to see an alternative to that."
Like science or music, sports can coax gestures of friendship and trust from hardened foes. Grassroots soccer programs nurtured new bonds of community in war-torn countries like Liberia and the republics of the former Yugoslavia. After apartheid, South Africa found a new basis for racial harmony in a shared national passion for rugby. Cricket offers one of the few consistent avenues for diplomacy between India and Pakistan.
Baseball has a long history of bridge-building dating back to the U.S. Civil War, when Union and Confederate soldiers found warmer ways to work out their differences – sometimes on fields measured out within prisoner-of-war camps. Nearly a century later, the game helped dismantle racial segregation.
Studies of so-called adversarial collaborations show their ability to tap reservoirs of qualities like humility and compassion, hidden by conflict. In 2016, then-President Barack Obama joined his counterpart Raúl Castro for a game in Havana between the Cuban national team and the visiting Tampa Bay Rays. The two leaders had spent the previous three days butting their diplomatic heads.
"If we look at sport and art … as being about creativity, imagination and personal expression," wrote Roald Bradstock, a former British Olympic athlete and youth sports ambassador, we discover "an ideal platform for interaction, engagement and discussion of ideas and thoughts … a stronger foundation for a more peaceful world."
Washington's long isolation of Cuba's authoritarian regimes, from the Castros to current President Miguel Díaz-Canel, kept the country's youth out of the World Series, which has always been held in the U.S. When the Obama administration began seeking a thaw, Little League Baseball and Softball saw an opening. It has gradually expanded its reach to help grow the baseball programs in 180 municipalities across the island nation. In 2019, it added Cuba to the community of nations that compete for a spot in the tournament. Cuba's first appearance in the tournament is sowing goodwill in a country where baseball excellence is the noblest of abilities.
The World Series includes 20 teams from around the world. Each international team bunks with a team from the U.S. During two weeks of competition, lasting friendships will undoubtedly grow. In downtown Williamsport, the town of 28,000 in central Pennsylvania hosting the tournament, the divisions of nations are nowhere evident. As the Cuban team, Los Bayamitos, and the 19 other teams rode floats down Susquehanna Street on Monday in an opening parade, townsfolk lining the route tossed rubbers to the young Cubans to sign.
"In each signature," wrote Osviel Castro Medel, a traveling reporter for the Cuban newspaper Juventud Rebelde, "there was, surely, a world of simplicity, of love, of joy."
On the fields of Little League dreams, innocence and affection are rounding the bases.