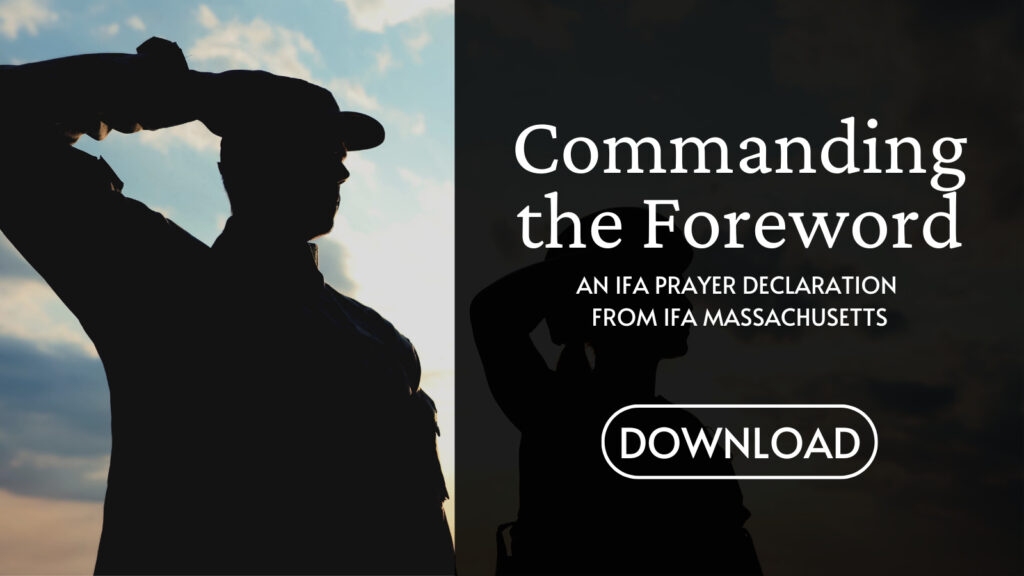 The Lord is omnipresent. A.W. Tozer wrote in his book My Daily Pursuit: "God fills heaven and earth just as the ocean fills a bucket which has been submerged in it a mile down. The bucket is full of the ocean, but the ocean surrounds the bucket in all directions." And yet, the Lord wants His people praying in every location in which He places us. We see this quite clearly in Jeremiah 29:7, where the Lord says to the people of Israel: "But seek the welfare of the city where I have sent you into exile, and pray to the Lord on its behalf, for in its welfare you will find your welfare."
We shared Dutch Sheets' post that lays out Gina Gholston's dream and call to "command the foreword," and we wanted to keep it on your radar as our final weeks to complete the assignment in August are upon us.
I'm working on a "singing play" about the Welsh and Asbury revivals, and I discovered that before the Welsh Revival of 1904–'05, people were gathering throughout Wales to pray for revival. In the 1905 book The Welsh Revival: I. A Narrative of Facts, William T. Stead wrote:
"For a long time past the Welsh Christians had been moved to pray specially for the quickening of religious life in their midst. The impulse appears to have been sporadic and spontaneous. In remote country hamlets, in mining villages buried in distant valleys, one man or one woman would have it laid upon his or her soul to pray that the Holy Spirit might be poured out upon the cause in which they were spiritually concerned. There does not seem to have been much organized effort. It was all individual, local, and strictly limited to the neighborhood. But prayer circles formed by devout persons who agree to unite together in prayer at a given hour every day have long been a recognized form of prevailing prayer. By these circles there are some thirty or forty thousand people now banded together to pray for a world-wide Revival."
Could it be that the Lord is moving again, using technology to inspire and unite in ways previously unavailable?
We know the Welsh Revival brought in at least the 100,000 souls that Evan Roberts prayed for, and countless others after that, in Wales and far beyond. IFA author and book designer Michelle Gallagher wrote in Monumental Prayers: "In 1904, the Welsh Revival spread like wildfire across Pennsylvania, bringing 1 million souls to Christ." The Azusa Street Revival was a direct answer to prayer inspired by the Welsh Revival, and that Los Angeles–based revival truly has had a global impact.
Our New York state prayer group has shared how we're praying throughout our state — from the Canadian border to New York City — in the Commanding the Foreword initiative. One of our group, Dianne Brady, incorporated the assignment into her vacation: 
"With this Commanding the Foreword season we're in, I knew right away that this was a God opportunity and I packed my packet (anoint the borders decree, Declaration of Dependence, the decrees from the synergy of the ages page you posted, as well as the Command the Foreword IFA prayer declaration from IFA Massachusetts). I was ready. So we flew from Rochester, N.Y., to Chicago, and got on the train there. We traveled through Illinois, Iowa, Nebraska, Colorado, Utah, Nevada, and California (54 hours)! On the way home, we flew from San Francisco and took the same basic route except we flew over Kansas so they got a sprinkling of prayer too. I was continually reminded of how much God loves the U.S.A., and that He indeed desires to save it. I knew I was on a mission even though it was a vacation, and I was so happy to be a part of it."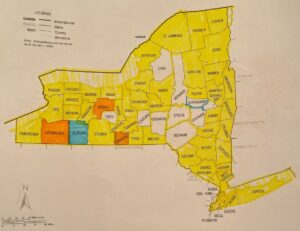 An intercessor from Georgia who asked to be called Pam is tracking who's praying where in all 50 states! As she expressed to me: "I can't help myself." During our New York prayer call, I mentioned that Pam is tracking our state, and before we were done, a woman on the call identified a county that hadn't been prayed over yet from Pam's map, and that woman was already making plans to get there to pray.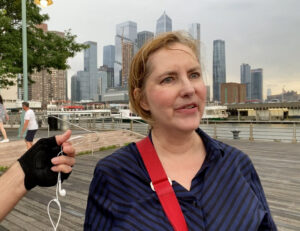 Friends and I set out to circumnavigate the borough of Manhattan by bike, praying for New York City (all five boroughs), the state of New York, and New Jersey. We finished about 22 of the 32 miles before we needed to return to the pier to join those who chose not to do the ride. There, my bride, IFA contributing writer Joyce Swingle, led us in praising, praying some more, and worshiping the Lord of all the earth. We finished the prayer ride on another day. Here are some highlights of both days:  
Next Saturday we'll post prayers around the Broadway Box and from four southern states.
Lord, hear the many prayers prayed throughout our nation! Bring revival and awakening like the world has never seen!
Post your stories of how you and your state prayer groups are praying at the borders of your states, counties, and cities in the comments below. We plan to include some in Part 2 of this report.
Rich Swingle has taught and performed in 39 nations across six continents, mostly in his own one-man plays, five of which were performed Off-Broadway. He has performed in more than 45 film projects. He and his bride, Joyce Swingle, another contributing writer for IFA, now have 41 "screen children." The Swingles live in New York City. Visit www.RichDrama.com for more information. Photo Credit: Rich Swingle.