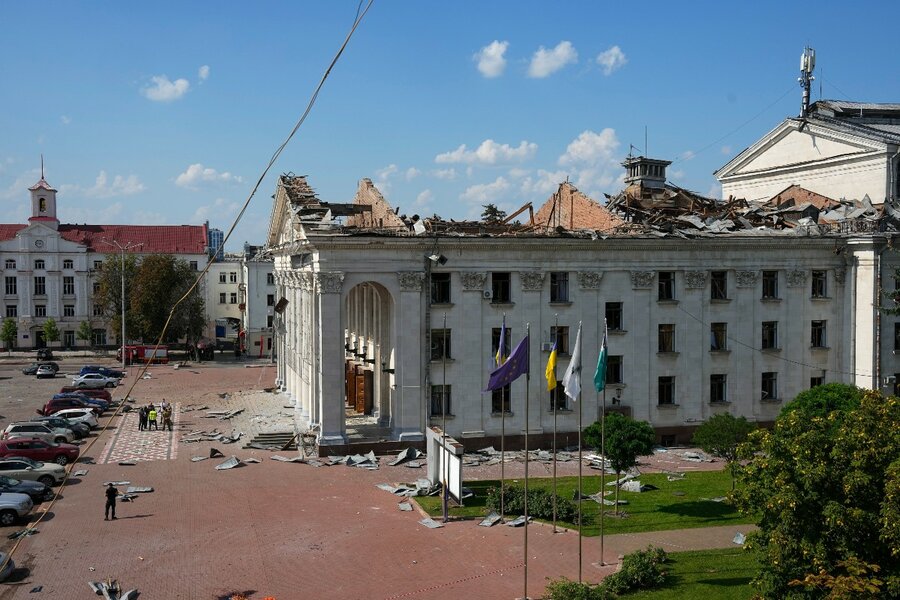 The Netherlands and Denmark announced Sunday they will give F-16 warplanes to Ukraine, a long-awaited announcement that Ukrainian President Volodymyr Zelenskyy called an important motivation for his country's forces, embroiled in a difficult counteroffensive against Russia.
The promise of new fighter jets came the day after an unusually brazen Russian missile strike on a Ukrainian theater that killed seven people and wounded almost 150 others in the northern city of Chernihiv. Mr. Zelenskyy vowed stern retaliation for the attack. A 6-year-old girl was among the dead, and 15 children among the wounded.
After months of entreaties from Mr. Zelenskyy for F-16s to bolster the Ukrainian air force, the U.S. recently gave approval for the Netherlands and Denmark to provide Ukraine the American-made jets. Mr. Zelenskyy traveled to both countries Sunday to finalize the delivery deals.
''F-16s will certainly give new energy, confidence, and motivation to fighters and civilians. I'm sure it will deliver new results for Ukraine and the entire Europe," the Ukrainian leader said.
Ukraine hopes the jets give it a combat edge, after launching a counteroffensive against the Kremlin's forces without air cover, placing its troops at the mercy of Russian aviation and artillery.
It's not clear yet how soon the jets will be in Ukrainian hands or in Ukrainian skies. It depends on how soon Ukrainian crews and infrastructure are ready, Dutch Prime Minister Mark Rutte said after he and Mr. Zelenskyy inspected two gray F-16 jets parked in a hangar at the Dutch base in the southern city of Eindhoven.
"The F-16s will not help immediately now with the war effort. It is anyway a long-term commitment from the Netherlands," the Dutch leader said. "We want them to be active and operational as soon as possible. … Not for the next month, that's impossible, but hopefully soon afterward."
A few hours later, Mr. Zelenskyy was received by Danish Prime Minister Mette Frederiksen along with the country's foreign minister, defense minister, and Crown Princess Mary at the Skrydstrup air base in southern Denmark.
Ms. Frederiksen said Denmark would provide 19 F-16 jets to Ukraine. She said "hopefully" six could be delivered around New Year, eight more next year and the remaining five in 2025.
"Please take this donation as a token of Denmark's unwavering support for your country's fight for freedom," the Danish prime minister said.
The Netherlands did not specify the number of jets it would provide. Mr. Zelenskyy said on his Telegram channel that Ukraine would get 42 jets.
The Dutch and Danish governments are also involved in a coalition that is working to train Ukrainian pilots to fly the advanced fighter jets.
Mr. Zelenskyy declined to say how many Ukrainian pilots would undergo training in Denmark and later in Romania, citing security reasons. Denmark said Friday that the training is starting this month, and officials have previously said that Ukrainian pilots will need six to eight months of training.
Prime Minister Frederiksen said "more than 70" Ukrainian personnel were already in Denmark and getting ready to start training.
On Friday, the Netherlands and Denmark said the U.S. had authorized them to deliver American-made F-16s to Ukraine. Washington's approval was seen as a major boost for Kyiv, even though the fighter jets won't have an immediate impact on the almost 18-month war.
Washington says the F-16s — like the advanced U.S. Abrams tanks — will be crucial in the long term as Kyiv faces down Russia.
Ukraine has been relying on older aircraft, such as Russian-made MiG29 and Sukhoi jets. F-16s have newer technology and targeting capabilities. They are also more versatile, experts say.
In Ukraine, the governor of the Chernihiv region, Vyacheslav Chaus, said Sunday that the total number of people confirmed to have been wounded in the theater attack in the center of town Saturday had risen to 148.
"I am sure our soldiers will respond to Russia for this terrorist attack. Respond tangibly," Mr. Zelenskyy said in a video address published in the early hours of Sunday at the end of a visit to Sweden.
In eastern Ukraine, Kharkiv regional Gov. Oleh Syniehubov said Sunday that Russia was shelling the city of Kupiansk "all day long," with an attack on Sunday afternoon in the city center wounding 11 people. A man was killed in Russian shelling of Vovchansk, also in the Kharkiv region, according to Ukraine's Internal Affairs Ministry.
Meanwhile in Russia, the Defense Ministry said Sunday that its air defense systems had prevented an attack by three drones on the Belgorod region, which borders Ukraine.
Russian air defenses also jammed a drone flying toward Moscow early Sunday, causing it to crash. Russia's Defense Ministry called it "an attempt by the Kyiv regime to carry out a terrorist attack."
Moscow's Vnukovo and Domodedovo airports briefly suspended flights, but no victims or damage were reported.
In the city of Kursk, five people were wounded when a Ukrainian drone hit a train station, regional Gov. Roman Starovoit said. Kursk is the capital of the western region of the same name, which borders Ukraine.
Ukrainian authorities, who generally avoid commenting on attacks on Russian soil, didn't say whether it launched the attacks.
Drone strikes on the Russian border regions are a fairly regular occurrence. Attacks deeper inside Russian territory have been on the rise since a drone was destroyed over the Kremlin in early May. Successful strikes have exposed the vulnerabilities of Moscow's air defense systems.