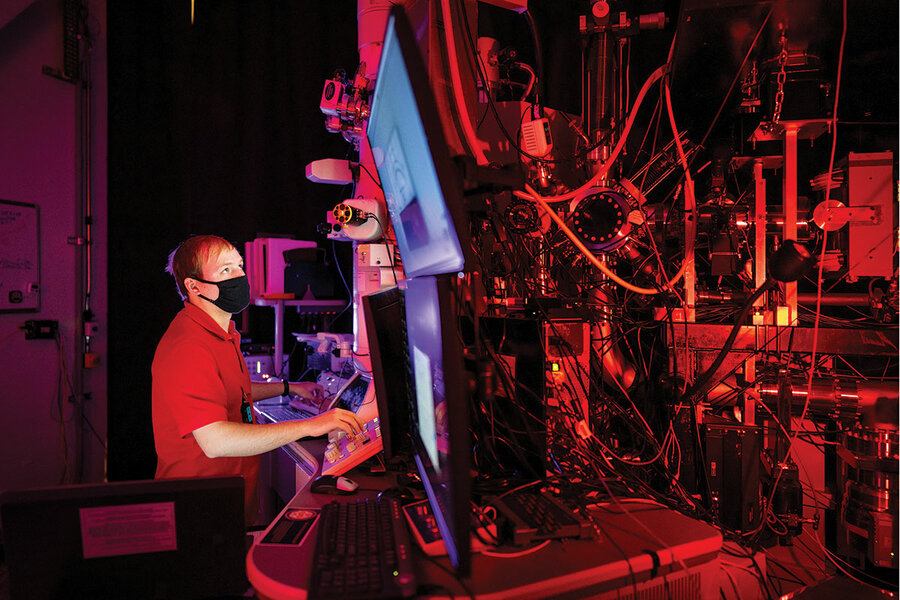 1. United States
For the first time, scientists have observed self-repairing metals. Researchers say the discovery in nanoscale experiments that pure platinum and copper "healed" themselves, a phenomenon long thought impossible, could revolutionize engineering.
The metal structures upon which we rely – from airplanes to bridges – experience "fatigue" damage from wear and tear. Over time, nanoscopic cracks spread and lead to structural failure. In the experiment, the ends of tiny metal pieces, measured in nanometers, were pulled 200 times per second under an electron microscope. The unexpected result was cracks fusing back together. The discovery could lead to new material design and engineering to make structures longer-lasting, as well as help predict failure in existing structures.  
Why We Wrote This
A story focused on
In our roundup of progress worldwide, researchers discover metals that heal themselves, France offers incentives to repair (not throw away) clothes, and vultures help scientists restore big cat populations in Africa.
Left unanswered is whether "the process also happens in air, not just the vacuum environment of the microscope," said materials scientist Brad Boyce. "It still has important ramifications for fatigue in space vehicles, or fatigue associated with subsurface cracks that are not exposed to [the] atmosphere."
Sources: Science Daily, Reuters
2. France
France is providing rebates for mending clothes to reduce waste. The program is part of the government's attempts to reduce the textile industry's high environmental toll and to combat fast fashion, a business model oft-criticized for poor working conditions. Residents who have clothing, shoes, or household linens mended by a participating business will receive a €6-€25 ($7-$27) discount on the service.
Skeptics complain that the repair initiative costs too much, and manufacturers, for their part, are facing a 2024 requirement to include more detail on clothing labels, such as the amount of water used in making a garment. But the government points to the country's 700,000 metric tons of clothing that are discarded each year. In 2017, a study estimated that 35% of ocean microplastics are linked to the global textile industry. French textile sales totaled €66.3 billion ($76.2 billion) in 2018.
To encourage more participation in a similar program, the government recently doubled the discount for repairs of household appliances, rebating up to €90 ($99) for fixing a computer. The textile initiative is the latest in a string of sustainability measures – aimed at everything from food waste to single-use plastics – rolled out in France since 2020.
Sources: BBC, The Guardian, FashionUnited, The Connexion
3. Zambia
Big cats are making a comeback in Zambia's Kafue National Park, thanks to a group of nonprofits using vultures to help monitor wildlife health. Leopard populations have tripled in the park in four years, and other big cat numbers are stabilizing or increasing – even as they fall in other parts of Africa.
Humans sometimes retaliate against cats that attack livestock by poisoning an animal carcass, which can kill dozens of scavengers like lions and vultures. By tagging and monitoring the birds, which can cover the park's 22,400 square kilometers (8,649 square miles) over a year, scientists can locate a poisoned carcass and intervene before it causes irreparable damage. These efforts, combined with education and support such as building enclosures to prevent livestock attacks, have stopped retaliatory killings in the region since the program began.
Counter-poaching teams and advanced monitoring technology are also increasing control over conservation areas. Providing locals with synthetic furs to be used in place of real ones for culturally important ceremonies has also been important for helping protect the big cats. A similar vulture project operates in Tanzania, and conservationists want to expand efforts across eastern and southern Africa. They hope to add three countries to the program next year.
Sources: Reasons To Be Cheerful
4. South Korea
A South Korean company created a silent emergency call to make reporting domestic violence easier. Knock Knock, a system designed by Cheil Worldwide and the Korean National Police Agency, allows communication with the police by dialing the country's three-digit emergency number and "knocking" – tapping two numbers on the phone.
Police track the location of the reporter, examine their surroundings through the phone's camera, and communicate through a discreet chat screen. Though Cheil advertised the service in spaces frequented by women, others – such as members of the Deaf community – have also found the service useful, said Seong-phil Hwang of Cheil.
In a 2017 study, 8 in 10 men in South Korea reported using some type of violence against their partners. Separately, Korean Women's Development Institute studies say that about 13% of domestic violence incidents are reported, and about 35% of women have experienced violence in their lifetime. But half of respondents did not recognize harm by wives upon husbands as domestic violence. Researchers say that regarding such incidents as private may prevent victims from seeking help.
"Nothing will change unless you knock," says Mr. Hwang, whose company won several awards for the campaign. "It took a lot of convincing, a lot of knocking on the doors of other police departments as well. In the face of disagreement and challenges, keep knocking [on] the door."
Sources: Future Crunch, Little Black Book, The Korea Bizwire, The Korea Times
World
Twenty-five countries cut multidimensional poverty in half in the last 15 years, illustrating that significant poverty reduction is possible.  A United Nations and University of Oxford analysis of 81 countries from 2000 to 2022 measures deprivations in health, education, and standard of living for individuals in households. For example, lacking basic assets like a bicycle or having a child not in school would lower a family's score. China and India were highly successful in reducing poverty, with 415 million people exiting poverty in India in 15 years and 69 million doing so in China in four years.
While the reductions show that it may be possible to meet the U.N. sustainable development goal of reducing poverty by 50% worldwide by 2030, the report notes a dearth of data on the impacts of the COVID-19 pandemic.
Post-pandemic data from Mexico, Madagascar, Cambodia, Peru, and Nigeria suggests that some countries – especially Cambodia – saw encouraging reductions in poverty rates even amid the pandemic. Researchers also noted that improvement in reducing children's poverty – which is specifically linked to undernutrition and lack of schooling – lagged behind gains for adults, and that better data will enhance the ability to track and intercept the conditions that contribute to poverty.  
Source: United Nations Development Program