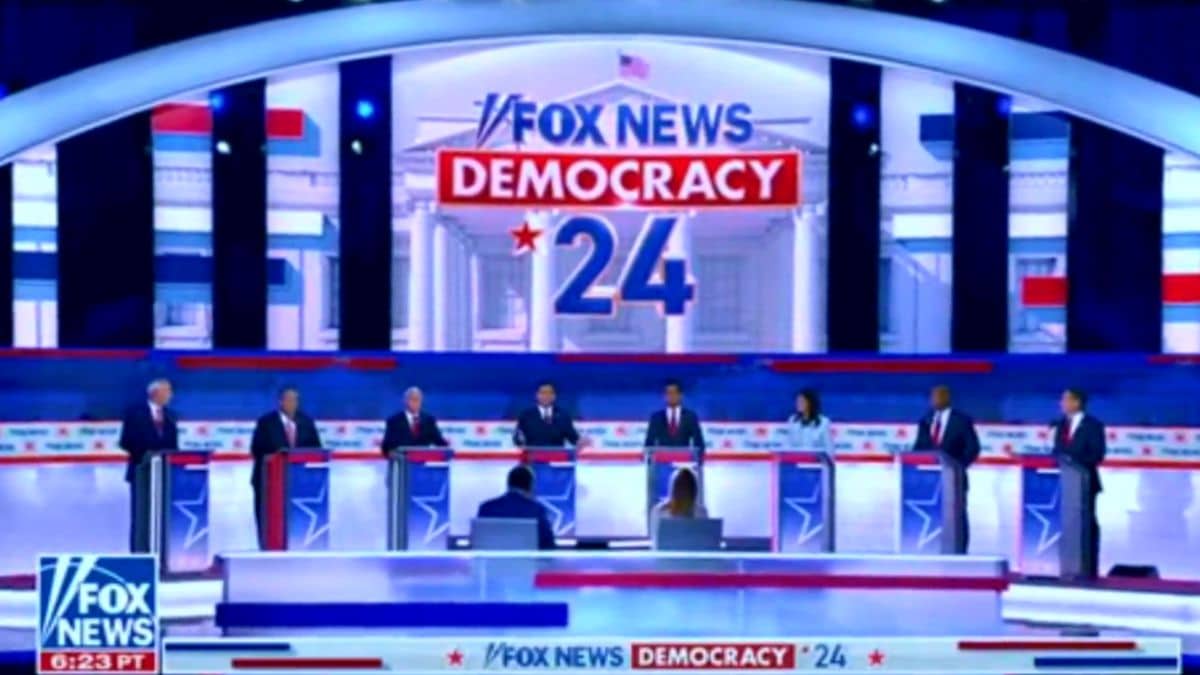 While Fox pushed the candidates to affirm the claim that humans are causing significant global warming, some of the candidates held that the narrative is flawed.
QUICK FACTS:
Several presidential candidates pushed against climate change probes during the GOP debate.
Fox News anchor Bret Baier told the candidates that the Biden administration maintains that the wildfires in Maui occurred because climate change "amplified the cost of human error."
Martha MacCallum, co-moderator of the debate, added that storms supposedly fueled by climate change have also hit Southern California.
MacCallum also pointed to warmer waters in Florida and heatwaves in the Southwestern states as evidence of climate change.
After being shown a video from a representative from the Young America's Foundation inquiring about climate change, MacCallum asked the candidates if they believed "human behavior" was behind climate change.
Florida Governor Ron DeSantis responded, "We are not schoolchildren. Let's have the debate."
"I am happy to take it to start. I don't think that's the way to do it," the governor continued. "Let me just say to Alexander, this: One of the reasons our country has declined is because of the way the corporate media treats Republicans versus Democrats."
"Biden was on the beach while those people [in Maui] were suffering. He was asked about it [and] he said no comment. Are you kidding me? As somebody that has handled disasters in Florida, you've got to be activated, you've got to be there, you've got to be present, you've got to be helping people who are doing this," said DeSantis.
CLIMATE AGENDA AIDS CHINA:
After Vivek Ramaswamy and former New Jersey Governor Chris Christie shared a heated exchange, former U.N. Ambassador Nikki Haley offered an answer to the climate change question.
"First of all, we do care about clean air, clean water. We want to see that taken care of, but there's a right way to do it," Haley said. "The right way, is first of all, is climate change real? Yes, it is. But if you want to go and really change the environment, we need to start telling China and India that they have to lower their emissions. That is where our problem is."
Haley continued, "These green subsidies that Biden has put in, all he's done is help China. He doesn't understand all these electric vehicles he's done, half of the batteries for electric vehicles are made in China. That's not helping the environment. You are putting money in China's pocket. Biden did that."
South Carolina Senator Tim Scott apparently agreed, arguing China needs to be held accountable for climate actions.
"If we want the environment to be better, and we all do, the best thing to do is bring our jobs home from China," Scott explained. "If we create 10 million new jobs in my 'Made in America' plan we will have a better economy and a better environment.
BACKGROUND:
American Faith reported that the mainstream climate change narrative is "manufactured" for "fame and fortune," according to climate scientist Dr. Judith Curry.
Dr. Curry previously published a study indicating a significant rise in hurricane intensity, finding that the "percent of Category 4 and 5 hurricanes had doubled," she recalled.
However, subsequent research highlighted certain inconsistencies in Dr. Curry's data, including periods that witnessed lower hurricane activity.
Upon closer examination, she recognized that the critics "had a point" and attributed the discrepancies to "bad data" and "natural climate variability."