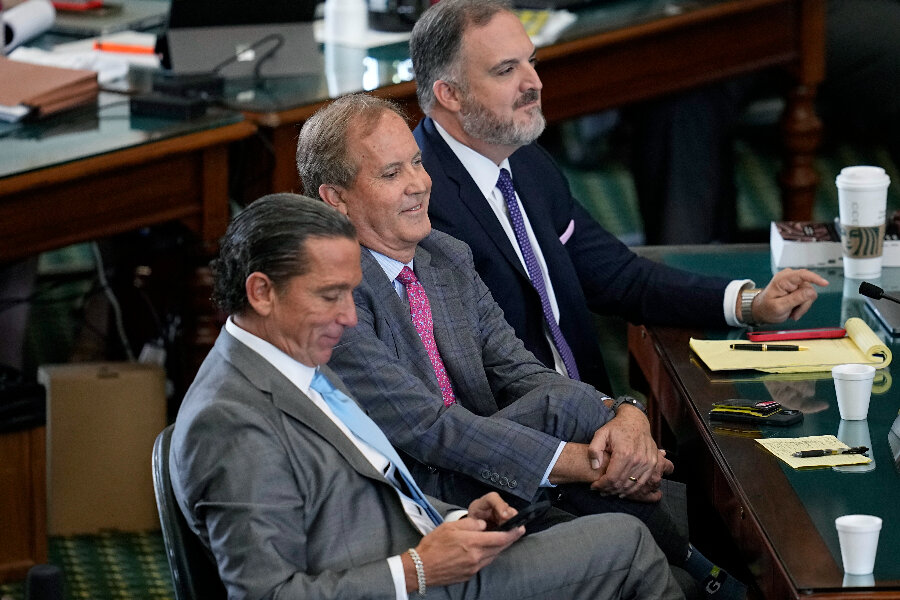 Republican Texas Attorney General Ken Paxton was fully acquitted Saturday of corruption charges in a historic impeachment trial, a resounding verdict that reaffirms the power of the GOP's hard right and puts an indicted incumbent who remains under FBI investigation back into office.
The outcome demonstrated Mr. Paxton's lasting durability in America's biggest red state after years of criminal charges and scandal. And more broadly, it delivered a signature victory for the Texas GOP's ascendent conservative wing, following an impeachment that gave a rare window into divisions among Republicans nationally heading into 2024.
"Today, the truth prevailed. The truth could not be buried by mudslinging politicians or their powerful benefactors," Mr. Paxton said in a statement. He only attended a few hours of the two-week trial and was not there for the verdict.
The trial was a showcase of both sober testimony and occasional spectacle. In accusing Mr. Paxton of abusing his office, former advisers recounted how Texas' top lawyer allegedly pressured them to help a political donor who was under FBI investigation. The testimony included arguments over who paid for home renovations, whether Mr. Paxton used burner phones and how his alleged extramarital affair became a strain on the office.
Mr. Paxton denied wrongdoing and his attorneys argued there was either no evidence or that there wasn't enough to rise beyond a reasonable doubt. They portrayed Paxton as the victim of a plot orchestrated by Republican rivals and waved to political conspiracies involving George P. Bush, the nephew of former President George W. Bush, who unsuccessfully challenged Mr. Paxton in last year's GOP primary.
Mr. Paxton was endorsed in that race by former President Donald Trump, who reaffirmed his support in the waning days of the trial and applauded the verdict. "The Ken Paxton Victory is sooo BIG. WOW!!!" Mr. Trump posted on Truth Social, his social media platform.
More than three months after an overwhelming impeachment in the Texas House — where Republicans have a solid majority — Mr. Paxton was just as convincingly acquitted by Senate Republicans who serve alongside his wife, state Sen. Angela Paxton.
Angela Paxton was not allowed a vote in the trial. But she attended all two weeks of the proceedings, including one dramatic moment when a woman was called to publicly testify about an affair she had with the state senator's husband. The woman ultimately never took the witness stand, but her relationship with Ken Paxton was central to a case that accused him of going to potentially criminal lengths to help a local real estate developer named Nate Paul, who was under FBI investigation at the time.
The voting to acquit Mr. Paxton one-by-one on 16 charges of misconduct, bribery, and corruption took more than an hour. Needing at least nine GOP senators to cross party lines, impeachment managers never got more than two on any one charge.
Onlookers in the Senate gallery for the verdict included three of Mr. Paxton's former deputies who reported him to the FBI in 2020 and testified in the trial. As the acquittals stacked up, one of them left midway through the verdict.
When the voting finally finished, Angela Paxton walked over to the defense table and hugged her husband's lawyers.
Democratic state Sen. Nathan Johnson described nearly eight hours of deliberations among the 30 senators as a hard and seemingly sincere process. "And then it collapsed," he said.
Mr. Johnson said it eventually became clear there would not be enough votes to convict and that it may have led some senators to change their minds.
"When enough people fall away from conviction, it exposes any remaining Republican to very strong attack from the right," Mr. Johnson said. "We reached the wrong result and it was the result of political pressures."
Another Democrat, Sen. Royce West, said the deliberations were not combative. "It was fluid," he said.
The outcome far from ends Mr. Paxton's troubles. He still faces trial on felony securities fraud charges, remains under a separate FBI investigation and is in jeopardy of losing his ability to practice law in Texas because of his baseless attempts to overturn the 2020 election.
Eight of Mr. Paxton's former deputies reported him to the FBI in 2020 over his relationship with real estate developer Mr. Paul, setting off a federal investigation that remains ongoing. Federal prosecutors investigating Mr. Paxton took testimony in August before a grand jury in San Antonio, according to two people with knowledge of the matter who spoke on the condition of anonymity because of secrecy rules around the proceeding.
Mr. Paul was indicted in June on charges of making false statements to banks. He has pleaded not guilty. Testimony in the trial included a former Texas Ranger, who said he warned Mr. Paxton he was risking indictment in trying to help Paul pursue claims of wrongdoing by federal agents and a judge.
But reelected twice, including last November, Mr. Paxton has remained politically resilient despite the legal troubles and dysfunction in his office.
After starting his career in the state legislature as a Tea Party insurgent, Mr. Paxton has elevated his national profile by rushing his office into polarizing courtroom battles across the U.S., winning acclaim from Mr. Trump and the GOP's hard right.
Shortly after the verdict, Republican Gov. Greg Abbott welcomed Mr. Paxton back to work without reservations.
"Attorney General Paxton has done an outstanding job representing Texas, especially pushing back against the Biden administration," Mr. Abbott said. "I look forward to continuing to work with him to secure the border and protect Texas from federal overreach."
This article is by The Associated Press. AP writer Jake Bleiberg in Glen Ridge, New Jersey, contributed to this report.