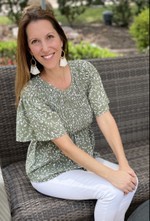 Fall is upon us, and you know what that means, right? Pumpkins, lattes, and football, oh, my! And yummy and soul-comforting foods? Yes, please!
While you climb into the attic and pull down all those festive fall colors and decorations, don't forget to grab some goodies at the store to whip up a delicious snack or meal for later. All that decorating can make anyone famished.
Don't worry; every recipe you find here is designed with the busy family in mind. This season, while filled with fun activities, can still involve trekking kids to practice or games, rushing off to after-school events, and prepping for the coming holidays. I get it. The fall calendar fills up fast. So, below is a collection of easy recipes that contain no more than five ingredients and can be thrown together in less than 30 minutes. Yay!
These are some of our family favorites—simple and easy, go-to recipes that are sure to please even your pickiest eater. The recipes are intended for a family of four or five but can easily be adjusted to meet the needs of your family.
So, without further ado, let's dig in… no pun intended.
Breakfast and Brunch
Fall calls for a lazy morning, lounging around in jammies until noon. This means breakfast gets pushed back a little bit, making a ten o'clock breakfast quite common. So, needless to say, it usually requires something on the menu that will be easy to prep. Better yet, do you want something that's already done and can be pulled out of the freezer and popped into the oven? Well, here you go! 
Egg and Sausage Casserole
1 lb. pork sausage
6 eggs
1/4 cup milk
2 cups cheddar cheese
Salt and pepper
Preheat oven to 350. Cook and strain sausage. Pour on bottom of 9 x 13 pan. Mix eggs, milk, cheese, salt, and pepper and pour on top. Bake for 40-50 minutes. Great for breakfast or brunch. You can also prep ahead and freeze until you are ready to bake it!
(This is a staple in our home and can be made in various ways too. You can add vegetables such as onions, bell peppers, or mushrooms, and even throw in a can of Rotel to add a spicier effect. In that case, you can also change up the cheese with Monterrey Jack. Yum-o!) 
Apple Breakfast Cake
2 packages of cinnamon rolls
4 eggs
½ cup milk
1 ½ cup chopped and cooked apples (or apple pie filling)
Preheat oven to 400 degrees. Cut and cube the cinnamon rolls and spread along bottom of 8 x 8 baking dish. Pour the apples on top. I usually cut all skins off and sauté in a pan with ½ stick of butter until tender. In a bowl, whisk the eggs, milk, and cinnamon (I sometimes sprinkle nutmeg, too) and pour on top. Bake for 40 minutes. Cool slightly and enjoy!
(This recipe is also delicious with blueberries!)
Comforting Casseroles
Nothing says "fall dinner" like a comforting casserole. It's like they were made for this season. They are also so nostalgic, as they bring back memories of grandma cooking a casserole in one oven and prepping a pie for the other. The smells of this season just beg me to forgo any diet until January. Below are a few of our favorite casseroles this time of year:
Tamale Pie Casserole
1 lb. ground beef
1 ¼ corn muffin mix (like jiffy)
1 cup shredded cheder cheese
1 can enchilada sauce
Chili seasoning packet
Preheat oven to 350. Prep cornmeal mix as listed on instructions (you will need milk and an egg) and pour in bottom of skillet or 9 x 13 baking dish. Cook for 20 minutes (or as directions say on package). As cornbread cools, cook the meat and add chili packet. Drain and set aside. Poke holes with a fork in the cornbread and pour the enchilada sauce over the top. Add the chili meat on top and sprinkle with the cheese. Enjoy!
Chicken and Stuffing Casserole
2 lbs. boneless chicken breasts
1 can cream of mushroom soup
2 cup mozzarella cheese
8 oz. package seasoned classic stuffing
½ stick butter
Preheat oven to 375. Put thawed and rinsed chicken breast on bottom of 9×13 pan (usually makes 4-5) and sprinkle each side with salt and pepper. Pour cream of mushroom soup on top. Sprinkle half the cheese on top of the soup. Mix together the butter and stuffing and pour on top of that and sprinkle with the rest of the cheese. Cover and bake for 30 minutes. Remove foil and bake another 10 minutes or so. Keep an eye as the top may crisp up fast.
(You can replace the chicken with other meat too. If you have leftover turkey or ham from Thanksgiving, this makes a great leftover dish!)
Savory Soups
Soups are the ideal meal for this season. Curl up with a book or cozy up by the fire with a steaming cup of soup and you're all set. While we have lots of soups that our family enjoys, below are two of our favorites. They are super easy to make and reheat nicely. Great for leftovers if you double the recipe. (Some call for a few more ingredients, but trust me… these soup recipes are worth it!)
Sausage, Potato, and Kale Soup
1 lb. sausage
4 cup half and half
3 potatoes cut up and cubed
2 cups chicken broth
1 onion
2 cups kale
Cook sausage and onion. Stir in potatoes, chicken broth, and salt and pepper to taste (about ½ tsp.) Bring to a boil. Then reduce heat and let simmer for about 30 minutes. Stir in kale and half and half and simmer for 10 minutes more. Sprinkle with parmesan and red pepper flakes for garnish. Delish!
Creamy Mushroom Soup
1 ½ lbs. fresh mushrooms (I usually get a variety like cremini, mini portobello, white button, shiitake)
Clove of garlic
1 onion
½ c. marsala wine
4 c. chicken broth
1 cup heavy whipping cream
Sauté onion with 2 tbsp. butter in dutch oven or stock pot. Add garlic with onion and it becomes translucent (about 5 minutes). Cook about 1-2 more minutes. Add mushrooms and sprinkle with ¼ cup flour to coat them, and add salt, pepper, and thyme for taste (1/2 tsp). Pour in marsala wine. Cook for five more minutes. Pour in chicken stock and bring to a boil. Then reduce heat, cover, and let simmer for 10-15 minutes. It will thicken, so check and stir occasionally. Turn heat off and stir in heavy whipping cream. Top with parsley, and serve!
Football Favorites
Where are my football fans? We are football fans around here, too. Well, let me rephrase that. My husband and daughters are football fans and actually watch the games. I just like the food! Let's face it, you can't watch a game without snacks. Am I right? So, whether you watch the game or are just there for the snacks, here are some football finger foods that will score every time!
Poppyseed Sliders
Package Hawaiian Rolls
1 lb. sliced ham
1-2 pkg. sliced swiss cheese
1 packet french onion soup mix
Poppyseeds
Slice the rolls and place on baking sheet. Layer bottom of roll with ham and cheese and place tops on. In separate bowl, mix 4 tbsp melted butter with onion mix and poppyseed, and brush the top of each sandwich. Bake at 350 for 15 minutes. This recipe will score some points with the family for sure!
Buffalo Chicken Dip
2 lbs. shredded chicken
2 (8 oz.) pkg. cream cheese
1 cup blue cheese dressing
¾ cup Red hot sauce
1 ½ cup shredded cheese
Place chicken and hot sauce in a skillet and heat through. Add the blue cheese and cream cheese, stir until blended. Mix half the cheddar cheese and smooth out evenly in skillet. Sprinkle the rest of the cheese on top then put in over at 350 for 20 minutes. This is sure to please the carnivores of the bunch!
Let the fall fun and delicious time of year commence!
*Many of these recipes came from my own sweet momma and were passed down to me. Some also came from Taste of Home, Delish, and Tasty.com.
Photo Credit: ©Getty Images/Mkovalevskaya
Alicia Searl is a devotional author, blogger, and speaker that is passionate about pouring out her heart and pointing ladies of all ages back to Jesus. She has an education background and master's in literacy.  Her favorite people call her Mom, which is why much of her time is spent cheering them on at a softball game or dance class. She is married to her heartthrob (a tall, spiky-haired blond) who can whip up a mean latte. She sips that goodness while writing her heart on a page while her puppy licks her feet. Visit her website at aliciasearl.com and connect with her on Instagram and Facebook.
Related podcast:
The views and opinions expressed in this podcast are those of the speakers and do not necessarily reflect the views or positions of Salem Web Network and Salem Media Group.
Related video:
In the video are 5 Tips for Decluttering Your Space by Michelle S. Lazurek.