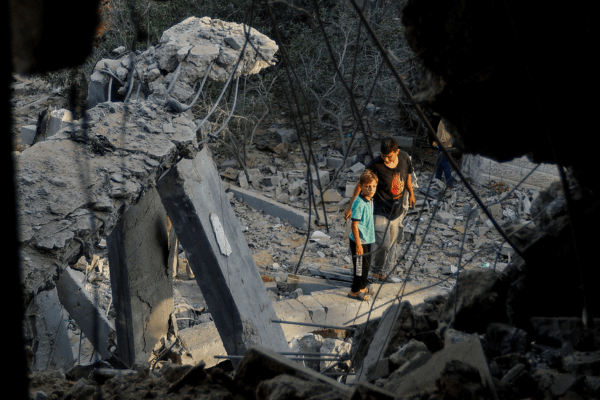 Christians around the world, including Pope Francis and the World Council of Churches, have issued statements condemning the horrific violence that erupted this weekend in Israel and Palestine.
On Saturday, Hamas militants attacked Israelis with rockets while gunmen killed people at more than 20 sites in Israel, including a dance festival, bus stops, and front lawns; the militants also seized 150 hostages. Israel responded with a declaration of war and airstrikes into the Gaza Strip. According to recent reports, more than 2,000 people in Israel and Gaza have been killed, including many civilians.
"We unequivocally condemn any acts that target civilians, regardless of their nationality, ethnicity, or faith," said top Catholic, Orthodox, and Protestant leaders of Jerusalem churches in an Oct. 7 statement calling for an immediate end to the violence. They also urged "the international community to redouble its efforts to mediate a just and lasting peace in the Holy Land, based on equal rights for all and on international legitimacy."
Some U.S. Christians saw Hamas attacks as a reason for Christians to "be united in support of Israel as it's under attack," as
Christianity Today
editor-in-chief Russell Moore
wrote
 on Saturday.
Yet other Christians around the world also called attention to the context of the Israeli-occupied Palestinian territories, especially the Gaza Strip, even as they condemned the violence and called for ceasefires and a diplomatic resolution.
"As Israel and the world are in shock at the news of past days, grief, lament, and horror are appropriate responses to the violence that has occurred,"
said
 Rev. Mae Elise Cannon, executive director of Churches for Middle East Peace, an ecumenical coalition of Christian communions. "For Palestinians, many feel their own suffering and catastrophes, at the hands of a decades-long military occupation and encroaching settlement expansion and violence has long been ignored. Neither tragedy negates the other. If there is ever to be long-lasting and sustainable peace, the core causes of the conflict must be addressed and resolved."
Rev. Sani-Ibrahim Azar, bishop of the Evangelical Lutheran Church in Jordan and the Holy Land, pledged his denomination would help promote the rights of the Palestinian people and offer "psychological assistance" for those in affected areas. "As a church, we continue to advocate for non-violence," he said in a
statement
, "but we also believe it is crucial to understand the circumstances from which violence emerges. In this case, it is a symptom of a people deeply wounded by extended and systematic violence and oppression."
A list of prayers from Sabeel Ecumenical Liberation Theology Center, a group of Palestinian Christians, lifted up all who are suffering while calling attention to history of the Israeli-occupied territories of Palestine. "May we remember that the recent events are connected to the long history of the Nakba and Israeli systematic oppression against the Palestinian people." Nakba, which means "catastrophe" in Arabic, refers to the mass displacement of Palestinians from their homelands when Israel was established in 1948.
Palestinians living in Israel and the Occupied Palestinian Territories have been unlawfully killed, forced from their homes, and subjected to widespread discrimination under Israel's rule that human rights experts from the United Nations, Human Rights Watch, and Amnesty International consider crimes of apartheid.
The Gaza region, a narrow strip of land that is home to more than 2 million Palestinians, has been under an Israeli and Egyptian blockade since 2007 and relies heavily on humanitarian aid. On Monday, Israel announced an intensified total siege against Gaza that would not allow any water, food, fuel, or electricity into the area.
Jonathan Kuttab, a Palestinian Christian, human rights lawyer, and executive director of Sabeel's North American chapter, condemned Hamas' actions as "violations of international law and even war crimes," but said conditions in Gaza are that of an
open-air prison
, with strict Israeli surveillance and tight control of who or what is allowed within the strip, often resulting in widespread
food insecurity
.
"It's a pressure cooker," Kuttab told Sojourners. "And then after a while, it bursts. What we saw in the last three days was basically a major jailbreak. Where people break out of jail, trust me, they act like animals. Anybody who's in their way, anybody who's been keeping them in prison, anybody who's preventing them from being free, a lot of things happen, which are awful." 
Kuttab, who is also co-founder of the Nonviolence International, an organization that funds nonviolent movements around the world, urged churches in the U.S. who want to take action to support nonviolence to join
Apartheid-Free
, a coalition of faith communities pledging to take action against Israel's violations of Palestinian rights.
"It's very hard because we're always preaching nonviolence to the weak," said Kuttab. "We're not preaching nonviolence to Israel. We're simply sending them more and more sophisticated weapons. If we want to talk nonviolence, we have to start by talking about Israeli militarism, then we can talk about nonviolence."
Mitchell Atencio contributed to this reporting.