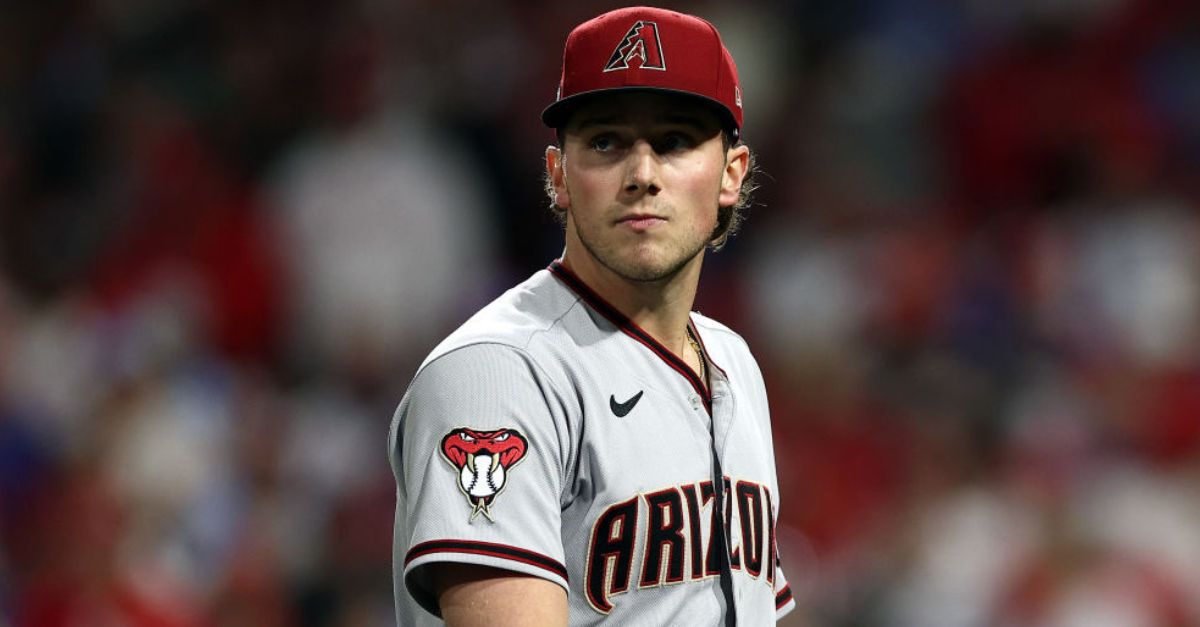 In the thrilling postseason journey of the Arizona Diamondbacks in 2023, one name has emerged as a key player in their success—Brandon Pfaadt. The 25-year-old pitcher played a pivotal role in the NLCS Game 7 against the Philadelphia Phillies, showcasing his skills on the mound and a pre-game ritual that caught the attention of fans and media alike.
Before taking the mound in the decisive game against the Phillies, Pfaadt was spotted in the dugout, engrossed in a seemingly unusual pre-game ritual—he was reading the Bible in solitude. This spectacle intrigued many, sparking speculation about its significance. Some wondered if it was a strategic move, a scouting guide against the Phillies batters. However, a deeper dive into Pfaadt's background reveals a consistent connection between his faith and his approach to the game.
Brandon Pfaadt's roots trace back to Trinity High School, an all-boys Catholic school, setting the stage for his journey. His commitment to education and faith continued at Bellarmine University, another Catholic institution. In a 2020 interview with WDRB, a Kentucky radio station, Pfaadt opened up about how his belief in God helped him navigate the anxieties associated with being a professional baseball player.
"It weighs on me," Pfaadt confessed about the pressure leading up to pivotal moments in his career. "There's a lot of anxiety coming up to this moment. But I think you gotta keep working hard no matter what, and then whatever happens. God has a plan, so just keep working hard every single day, and hopefully, your dream will come true."
This philosophy has proven effective for Pfaadt, as evidenced by his trajectory from being a fifth-round pick by the Diamondbacks in 2020 to becoming a standout pitcher in the MLB postseason. In just a year, he transitioned from his first season in Triple-A to making four postseason starts, including a crucial victory in the NLCS Game 7.
One of the most remarkable displays of Pfaadt's resilience was in Philadelphia, facing a raucous crowd while delivering a four-inning, two-run ball performance. In the post-game interview, he attributed his undeterred focus and stress-free attitude to his faith, emphasizing that he thrived despite the challenging environment.
As the Diamondbacks advance to the World Series, Pfaadt faces a shift in atmosphere. In Game 3, he will experience the support of thousands of Arizona fans cheering him on as he takes on the mound against Texas Rangers' veteran ace Max Scherzer. The contrast from the heckling in Philadelphia to the roaring cheers in Arizona encapsulates the diverse experiences Pfaadt has encountered in this postseason journey.
Pfaadt's story extends beyond the baseball diamond; it intertwines faith, perseverance, and a dream fulfilled. His demeanor, both on and off the field, reflects a unique blend of talent and unwavering belief—a combination that has propelled him from a young pitcher with dreams to a vital force in the Arizona Diamondbacks' pursuit of a World Series title.
Photo Courtesy: ©Getty Images/Elsa / Staff
Video Courtesy: Smart Christians Life via YouTube
This article was generated with the assistance of artificial intelligence (AI) technology and edited by a human editor at ChristianHeadlines.com. All efforts have been made to ensure accuracy and relevance. The information provided should be considered as a starting point for research or discussion, and readers are encouraged to verify the facts and seek additional sources.
Related podcast:
The views and opinions expressed in this podcast are those of the speakers and do not necessarily reflect the views or positions of Salem Web Network and Salem Media Group.