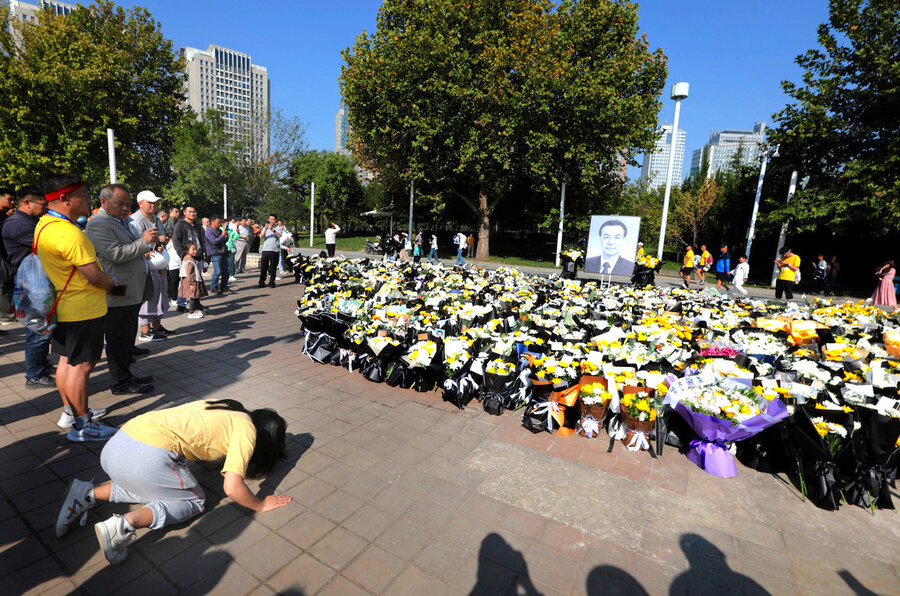 In China, where accurate polling is rare, a peephole just opened into what qualities Chinese citizens most admire in a leader, hinting at a China ruled differently someday.
In both public displays of mourning and on social media, people have been paying tribute to a former premier, Li Keqiang, who died Friday just a year after being sidelined by Communist Party leader Xi Jinping.
Mr. Li's popularity can be measured by the fact that a hashtag about him on Weibo, China's second-largest social media platform, garnered more than 1 billion views in just a few hours after his passing. In contrast, China's official media had his death as a distant item, even though he was once second in power. Security has also been tight to prevent mass gatherings, while censors worked hard to prevent "overly effusive" comments about Mr. Li and indirect criticism of Mr. Xi's autocratic rule.
As head of the State Council, China's Cabinet, for a decade, Mr. Li was widely seen as honest about China's problems, compassionate toward people in crisis, and open to the innovations of private entrepreneurs. "He stood for allowing more space for societal and market forces," Wen-Ti Sung, a fellow at the Atlantic Council Global China Hub, told the Financial Times.
Among the online tributes, many cited his comments after becoming premier in 2013: "We will be loyal to the constitution, faithful to the people, and take the people's wishes as the direction of our governance." He also said, "Reforming is about curbing government power."
Videos have been posted of Mr. Li's visits to the scenes of disasters, even one showing him standing in deep mud to console people. His candor was remembered in comments he made in 2020 when he said China may be the world's second-largest economy but some 600 million of its people still live on a monthly income of $150.
He also bemoaned dishonesty in China's official statistics, even telling an American diplomat an alternative way to measure the Chinese economy (railway cargo volume, electricity consumption, and bank loans). That index is still widely used.
Born of humble origins but with degrees in law and economics from a prestigious university, he was an admired technocrat. Yet the tributes to him paint him as "the people's premier." Securing the party's hold on power was not his top priority. In fact, he saw economic growth not in numerical terms but as bringing opportunities for people to "pursue excellence and moral integrity," as he once said.
"Life is invaluable," meaning immeasurable, according to Mr. Li. And by the praise now being given to him, his life could be a model for a future China.