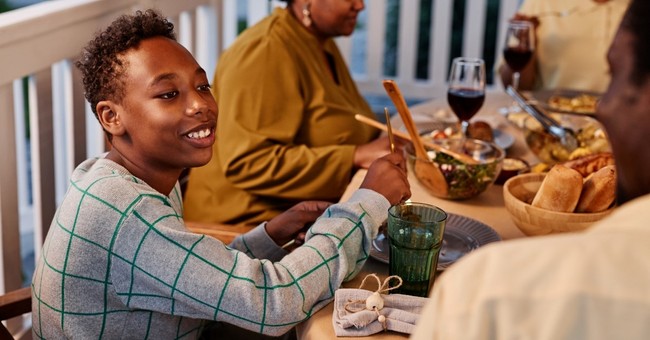 We all want our kids to be grateful and to share that thankfulness with their family, friends, classmates, neighbors, church, and community. But how can we help them develop a thankful heart? Through deliberate actions and teaching on our part—plus a lot of prayer that the Holy Spirit will work on their hearts, too. However, before we talk about how to instill a heart of thankfulness in our children, let's first discuss what it means to be thankful and how that translates into thanksgiving.
Thankfulness is what we feel on the inside—it's that humbling sense of gratitude for something or someone. Thankfulness leads us to thanksgiving, which is what we do in response to thankfulness. When we begin or continue the work of instilling gratitude in our children, we should ground our training in Scripture. To guide our thankfulness into thanksgiving, Paul notes five lessons in gratitude in Ephesians 5:20, which says, "giving thanks always and for everything to God the Father in the name of our Lord Jesus Christ" ESV.
First, our gratitude should be constant for our daily bread (earthly blessings) and daily grace (spiritual blessings), as my pastor put it recently. Second, we should be grateful for everything. This doesn't mean we're thankful for things like illnesses or job loss, but that even in difficult circumstances, we can be grateful for something. Third, we should express our thanks to God the Father, and fourth, to the name of the Lord Jesus Christ as part of our union with Christ as believers. Fifthly, we should be thankful in our hearts.
This correct understanding of gratitude will be the foundation of our thankfulness. When we see our children struggling with thankfulness—or we ourselves have trouble being grateful—remember we're up against the ingrained sin of ingratitude in our hearts (Romans 1:18). This means we have to fight for gratitude, and our kids will have to fight for it too.
Here are eight ideas to help our children develop grateful hearts.
Photo Credit: © Getty Images/SeventyFour
1. Start with thank you.
It sounds too simple to just encourage your kids to say "thank you" regularly to train their hearts toward gratitude, but it works. When our children were young, we encouraged them not to simply toss out a "Thank you" but to add the "for what" part of the thanks. "Thank you for making your bed." "Thank you for getting me a glass of water." My husband and I practiced this as well, and it made saying thank you more meaningful for both the sayer and the recipient.
2. Expand to thankfulness.
Once you've incorporated regular thank yous in your home, get the children to extend their thank yous to thankfulness by regularly asking them what they're thankful for. This can be kickstarted at Thanksgiving but should be something you revisit again and again throughout the year. Get your kids—and by extension, yourself!—into the habit of publicly saying thanks for all the good and perfect gifts our heavenly Father bestows on us (James 1:17).
3. Set up a blessing jar.
Each day in November leading up to Thanksgiving, everyone writes on a piece of paper one thing for which they are thankful. "We use colorful construction paper and cut hearts to write what we're thankful for. Then you could read them aloud at the Thanksgiving table or Thanksgiving night when everyone is ready for bed," said Cheri Swalwell.
As this might be difficult for our children (and perhaps even for us adults), draw or write a thankfulness chart using expanding concentric circles. Start with self, then immediate family, extended family, neighbors, friends, church, community/city, state, country, and world. This can be a helpful guide for saying thanks and provide a blueprint for the blessing jar.
4. Lead by example.
Photo credit: ©GettyImages/Zulfiska
"When we live our everyday lives showing thankfulness for the good things present, we model it for our children," said Rose Ann Forte, founder of The Plans He Has For Me. "When we look at the glass as half full (instead of half empty) during challenging moments, we model it by example. When we praise God, despite circumstances, we lead by example."
5. Thankfulness can grow.
"Children live in the moment, and it can be challenging for them to recognize that their thankfulness is something that can grow," said Dawn Stephens. As they get older, they learn to be thankful for more things. This is also taught to them by the way we offer thanks for various things, people, and situations.
6. Saying thanks in person.
It can be meaningful to tell someone why you're thankful for them. Janet McHenry, author of Praying Personalities: Finding Your Natural Prayer Style, suggested giving each child sticky notes and a colored pen, then asking them to write something they're thankful about each family member attending the Thanksgiving meal. "Then you can make a game out of having the children stick their stickies right on that person," McHenry said.
7. Play Thanksgiving Bingo.
Make a bingo card like this one, and write simple activities your kids can do for others, such as clearing the table after dinner, raking a neighbor's leaves, cleaning their siblings' room, etc. When your child does an activity, they put their initials in the box (or color part of the box). If you have multiple children, each child gets a particular color. When someone gets "bingo," that child gets to plan an activity for the family. "Children will demonstrate thankful acts of service and learn the importance of giving themselves for the benefit of others," said Lee Ann Mancini, author and executive producer of Raising Christian Kids.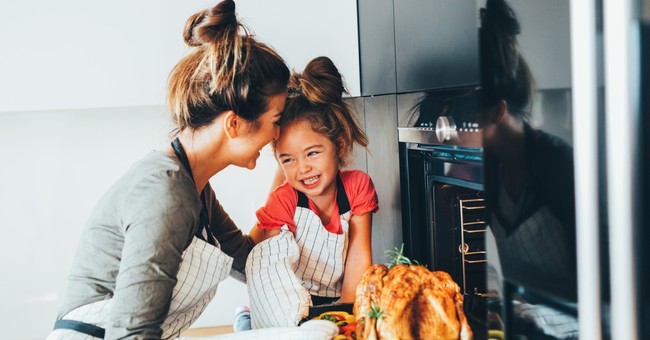 Photo credit: ©Getty Images/Filadendron
8. Volunteer as a family.
One of the best ways to instill gratitude in the hearts of our kids is to help them think outside of themselves. Volunteering to help others gives them insight into other people and also guides their hearts toward selflessness, a key ingredient to thankfulness. Even with young kids, your family can bless others this Thanksgiving season and beyond. Here are a few ideas to get you started.
-Offer free babysitting for families with young kids. Whether your kids are grown or still at home, this can be a huge blessing to others needing a break.
-Make meals for others. Whether it's homebound members of your church or community or families going through a health crisis, bringing a homemade meal to someone's door is something the entire family can do together.
-Dish meals for others. This is the time of year when many charities and churches have massive outreaches to feed those in need. Volunteer your services to serve, clean up, pack food, hand out food, etc.
-Pack a shoebox. Operation Christmas Child can be a wonderful way for your kids to get directly involved in sending a shoebox full of needed and fun items to a child in another country. National collection week for this annual drive is November 13-20. My children loved being involved with this up through high school.
-Do yard work. You can check with your church to see who might need leaves raked or branches picked up. Or ask in an online neighborhood group if anyone needs free yard work.
-Send handwritten cards. Emails and texts can be great ways to keep in touch, but nothing says you care like a handwritten card sent through the mail. Get a list from your church directory of those who won't have family visits during the holidays, and send them a card of encouragement. Have your kids include short notes or drawings.
-Put together decorations for care home residents. Build kits for nursing homes, assisted living, and other care home residents to decorate for the holidays. Include a small tabletop tree with ornaments, snowflakes to dangle from the ceiling, winter wonderland window decals, etc. Contact the facility ahead of time to see if there are any restrictions on the type of decorations. Tailor kits to include those who might not celebrate Christmas, such as Hanukkah. Also, ask if you could deliver the kits and help the residents put up the decorations.
-Invite singles and college students to your Thanksgiving meal. Don't assume everyone has a place to go for Thanksgiving, but invite those who are away from their families to join yours. For example, our church supports a ministry to international students at a local university, and it's been such a blessing to host some of those students for an American Thanksgiving each year. Last year, one of the students texted me after the meal about how lonely he had been feeling, but being with our family made him feel at home.
Building a thankful heart in our children takes small steps over many months and years. Use these suggestions to get you started, and you'll soon think of new ways to be thankful both as a family and as individuals within the family.
Photo Credit: ©iStock/Getty Images Plus/SrdjanPav

Sarah Hamaker is a national speaker and award-winning author who loves writing romantic suspense books "where the hero and heroine fall in love while running for their lives." She's also a wife, mother of four teenagers, a therapeutic foster mom, a UMFS Foster Parent Ambassador, and podcaster (The Romantic Side of Suspense podcast). She coaches writers, speakers, and parents with an encouraging and commonsense approach. Visit her online at sarahhamakerfiction.com.
LISTEN: A Prayer for Thanksgiving
The views and opinions expressed in this podcast are those of the speakers and do not necessarily reflect the views or positions of Salem Web Network and Salem Media Group.
WATCH: Daily Prayers of Thanksgiving