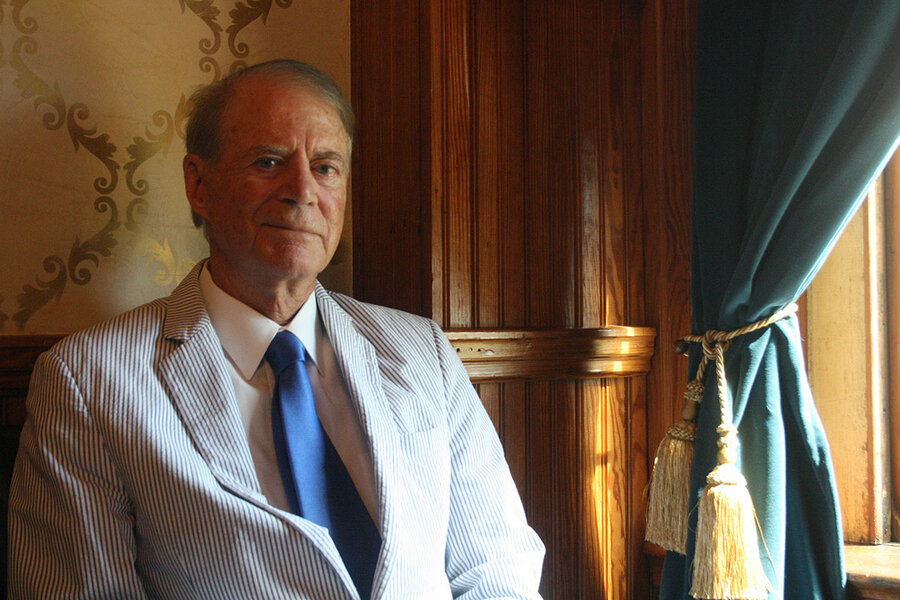 Early Texas history once marched across land owned by the Pinkerton family for four generations. 
On their way into the history books, the famous feet of Sam Houston, Davy Crockett, and other icons first tramped from the Red River down the historic road of Trammel's Trace. What began as a smuggler's route became, in the chaotic decades around Mexican independence, a primary causeway for Anglo immigrants (white, English-speaking immigrants) looking to settle beyond America's southwest frontier. 
The trail passed right through a pasture on Pinkerton land in Rusk County, Gary Pinkerton's father mentioned one day. Mr. Pinkerton was hooked. 
Why We Wrote This
A story focused on
What is the purpose of studying the past? A lawsuit against a Texas historical organization was really, both sides say, about how the narrative arc of history will bend in the future.
"I began to feel history rather than just learn about it," says the retired human resources director.
He spent 10 years driving the back roads of East Texas and combing through historical records. What began as a family history project became a forensic historical investigation. Eventually, it became a book.
"The more I researched, the more I learned things that just weren't true – myths and legends that had floated around," he says.
For J.P. Bryan, his love of Texas history was sealed with the first two artifacts he acquired as a boy: a Moore's Patent Front Loading Revolver and a Sharps Patent Four-Barrel Derringer.
The antique firearms formed the basis of the private collection he displays at the Bryan Museum in Galveston. When visitors begin a tour, a framed painting comes to life with a recorded welcome from Mr. Bryan.
The museum, he says, will walk visitors through "one of the greatest events in history … the settlement of the American West."
One August morning, the real Mr. Bryan sits in the museum. In a white-and-blue seersucker suit, the multimillionaire and former oil executive explains why he thinks Texas "has the greatest history of any state in the Union." From the Texas Revolution to the cattle drive era, to oil and gas innovation, the state has been the setting of some of the world's most compelling stories, he says. Mr. Bryan believes that history should inspire.
"We as historians should be looking for those opportunities," he says. "But at the same time, we don't try to hide things, or cover it up and make it mythology or legend."
Both Texans – retirees who love their state's history – found themselves on opposite sides this year. The line was what, exactly, history is for.
Texans revere their history, even as some of its defining features have, under scrutiny, moved closer to the realm of myth. Texas exceptionalism draws from wells of historical experience, from its nine years as an independent country to its globally powerful modern economy. So perhaps it's no surprise that here, as in other parts of the United States, history has become a front in the political culture wars.
"We have multiple views of America. That's not an opinion; that's a fact," says Jonathan Zimmerman, a professor at the University of Pennsylvania who studies the culture wars and the politics of education. "But what do you do about that fact? That's the question."
In Texas, controversy this summer centered on Mr. Bryan – specifically a lawsuit he filed against the leader of the Texas State Historical Association (TSHA). Mr. Pinkerton was among the historians who signed a petition opposing Mr. Bryan's lawsuit.
The dispute goes beyond the discomfort some have with historians revisiting old heroes with a more critical eye. It goes beyond historians widening the spotlight beyond a singular focus on the great white men of history. Mr. Bryan is a lateral descendant of one of those men – Stephen F. Austin, one of the founding fathers of Texas – and he recognizes the need for state history to tell more diverse stories. But academic historians, he contends, have been going too far, seeking to vilify certain figures and victimize others.
Academic historians argue they're not seeking to vilify anyone, and that historians also shouldn't approach their work with rose-tinted glasses. Merely making history more diverse and inclusive, they believe, is a superficial gesture that avoids the deeper issue at the heart of the culture war.
"What we did to solve any history war was to add a new group to the same story," says Professor Zimmerman. "Everyone gets in; everyone gets to be a hero or heroine. It's democratic in the sense that it's inclusive, but it's not democratic in the sense that it's critical."
Historians have a duty to study the uglier chapters of the past, these historians believe, even though it may make for uncomfortable reading.
"For so long, the history of Texas was the history of great white men on horseback," says Gregg Cantrell, a history professor at Texas Christian University.
"It's the job of the historian to tell the truth. If you're inspired by the truth, great," says Professor Cantrell. "Sometimes the truth is not pleasant; sometimes the truth does not inspire you; sometimes the truth is not heroic. And if we only tell the kind of truth that is inspirational or heroic, then we're not really telling the truth at all."
The lawsuit settled before trial in August, but the broader dispute around history and its value for the present day remains.
"The way the history of Texas is written"
Formed in 1897, the historical association bills itself as the oldest learned society in the state. The main functions of the TSHA, a membership organization of academic and amateur historians, are putting on educational programming and curating the well-respected and widely read Handbook of Texas, Southwestern Historical Quarterly journal, and Texas Almanac.
For most of that 126-year history, the TSHA operated in relative anonymity. But a few years ago, some members say they noticed things changing. What had been a friendly, perhaps occasionally dull community of professional and amateur historians became more divided.
"There used to be more of a sense of community," says Michelle Haas, a member and amateur historian.
The organization became more focused on what she describes as "esoteric" subjects. She says she heard from people over the past decade who stopped going to conferences, or unsubscribed from publications because "there's nothing I want to read."
One lightning rod moment came in 2021, when Walter Buenger, the chief historian for the TSHA, told USA Today that the Alamo became a "symbol of Anglo-Saxon preeminence" that has been used as "a defense of white privilege." When Mr. Bryan, a former president of the organization, returned the next year as interim executive director, he noticed a similar trend: academics advancing what he describes as a "narrative" of "victimization and villainization."
Earlier this year he filed his lawsuit against Nancy Baker Jones – both individually and in her capacity as TSHA president. He sought to reorganize the board, in accordance with the association's bylaws, to be "balanced substantially" between academic and nonacademic members.
Early on, it was clear the lawsuit was about more than bylaws.
"How this whole thing goes will determine the future of the way the history of Texas is written," Mr. Bryan told The Galveston County Daily News in May. "If we keep on this path, we're going to lose it all. There's nothing inspiring when everyone's a villain or crook or usurper of wealth."
"History 101"
A segment of the membership came out in vocal criticism of the lawsuit, supporting Dr. Jones. Among the disputes is whether the legal question at the heart of the lawsuit has been resolved: What exactly constitutes an "academic" historian versus a "nonacademic" historian? 
The organization's bylaws describe an academic as "an active or retired employee of an accredited academic institution" whose position involves teaching, or researching history. But that "can be arbitrary," says Sonia Hernández, a history professor at Texas A&M University and a member of the TSHA board.
"This whole legal issue can very well reemerge in the future if we don't have a clear understanding of what we mean by these categories," she adds. But "this was about something else, and how we know this is because … he said this was a battle over the narrative of Texas history."
Academics also dispute the notion that the association had taken a sudden leftward turn.
"There's a lot of traditional history that's been published there, too," says Professor Hernández, about the Southwestern Historical Quarterly. A 2021 issue around the time of Dr. Buenger's comments included articles on Spanish settlers, German midwives, and a Civil War naval surgeon.
But "historians are continuously revising narratives based on the availability of source material, based on the analysis of historical material outside of Texas," she adds. "That's History 101."
In a sense, Professor Cantrell, at Texas Christian University, embodies that narrative journey. One of the former TSHA president's first books was a biography of Austin. Almost a quarter century later, his next book is going to be about lynching in the state.
The association's academic members had "long prided themselves on the organization being a big tent," says Dr. Cantrell. "Really what's changed has been the insertion of politics in areas of life that really weren't present before."
"We're in a time when objectivity is hard"
Weeks before trial, the parties settled in mediation, with Mr. Bryan appearing to get many of the changes he was calling for. Dr. Jones resigned, along with the secretary of the association, Stephanie Cole, a history professor and Dr. Cantrell's wife.
Some professional academics – and some nonacademics – are concerned about where the association might now go from here. Mr. Bryan says nothing is changing when it comes to the content of the organization's periodicals.
"We're just trying to grow everything that we're doing, and it doesn't have anything to do with me changing the [historical] narrative," he adds. "The only thing that will change is that [with more] balance, there will be more narrative from people that don't necessarily share the academic view of history."
And that should have positive effects for the association, and for Texans as a whole, says Ms. Haas, the amateur historian, who had commented on a lost sense of community.
"If you don't agree on which history should be promoted the most, that's good. Fight it out," she adds.
But the lawsuit has strained relationships and damaged trust. Some members say they're considering leaving, perhaps to start a new organization. After the settlement, a survey of members who signed the petition objecting to Mr. Bryan's lawsuit found that 87% support forming "a new organization to support Texas history." So far eight board members and committee members have resigned.
Historical scholarship will continue no matter if, or how, the TSHA changes. But professional historians say that, after a generation in which historical study has grown more diverse and inclusive, historical scholarship of Texas needs to keep its critical eye.
"Learning new things about the past does not mean that we've lost tether to what we thought we knew. It's just that what we know now has expanded," says Sarah Gould, a historian and executive director of the Mexican American Civil Rights Institute in San Antonio.
What academic historians fear is the vanishing of history that shows Texas icons – be it Alamo defenders or Texas Rangers – in a negative light. What they worry about is the TSHA becoming, in effect, the Bryan Museum writ large.
The new association president is Ken Wise, a state appeals court judge who hosts a Texas history podcast and is finishing a master's degree in history. He acknowledges that the organization needs to rebuild trust between members, but he also believes all historians are facing external pressures from a society riven with distrust and ideological division.
"We're in a time where objectivity is hard, and that's not a good thing for historians," he says.
Mr. Pinkerton says he's reconsidering his support of the TSHA, but he's also mindful of continuing to feed a conflict he believes is based on a false dichotomy.
The "assertion that there's been a 'woke' takeover of TSHA is intended to ignite emotions, and when that happens people tend to ignore the facts," he says.
"We've forced ourselves into an 'either-or' society … when we live in an 'and' kind of world," he adds. "As a country, as a community, we're going to need to find more 'and' solutions."