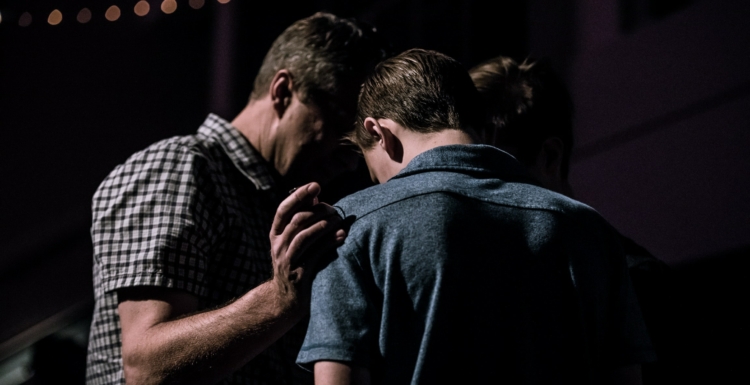 Occasionally, the exasperated question arises, "Where are the men?" The question is caused by the male leadership vacuum in the Church that often precedes spiritual revival.
It usually gives rise to a spectrum of answers. Some point to a lack of discipleship among men. Others point to the feminization of worship and prayer that alienates men as women have stepped into the gap and taken the lead. And there is the constant portrayal of men as primitive and stupid in the entertainment culture. The list goes on. I have addressed some of the core issues in a recent article about an emerging prayer movement among men I wrote entitled Men Praying Everywhere.
But I think a spiritual issue lies at the root of the periodic absence of men in church leadership. To understand it, we must go all the way back to Genesis and the tragic turn of events in the lives of the first man and woman.
Yahweh went for a walk in the lush garden He had made on earth in the cool of the day, looking forward to fellowship with Adam and Eve, His human image bearers. But they had heard the sound of the Lord walking in the garden and hid because of what they had just done. So, God called out to the man He had made in His image, "Where are you?"
That is the sad moment described in Genesis 3:8 -9 when God discovered the rebellion that changed everything. Instead of a husband and wife who would multiply and fill the earth with His glory, He now had rivals – infected with the same desire to be like God that caused Satan, their seducer, to be kicked out of heaven.
Adam and Eve's rebellion against God embedded two things in a man's soul: to yield to the leadership of women and to hide from God. Adam had given in to Eve when she believed the serpent and proposed they should break the one rule God had given them. When they did, God-consciousness gave way to self-consciousness, and they hid from Yahweh. The consequences were disastrous: they were banished from the presence of God, relegated to hard work and painful childbearing, and their perfectly harmonious relationship had now come under severe strain.
Men and women were now left with a gaping emotional need. As John Eldridge surmises in his book Wild at Heart, a man's core question became, "Do I have what it takes?" For the woman, it became, "Am I lovely and loved?" God designed them so they would find the answers to those questions in a relationship with Him, but their sinful nature has both looking in all the wrong places.
Men have since then associated their identity with their vocation, achievement, and conquest. And they tend to compensate for the hole in their soul by trying to control things and people around them. Eldredge and others believe that there is a warrior spirit in them that has been crushed by modern culture and comes out through inappropriate anger and violence. It's a warrior spirit that, by God's transforming power, can become the driving force behind strong male leadership in His kingdom, powerful intercessory prayer, and passionate evangelism.
History gives hope here. There have been times when revivals swept through portions of the world. They were ushered in by strong leaders and praying men and resulted in a surge of spiritual fervor, missions, evangelism, and justice activism, all spearheaded by men.
The last great nationwide male revival took place a decade or two ago when Promise Keepers swept through our nation. It all started with Coach Bill McCartney, head coach of the Colorado State Buffalos football team. God took hold of his heart when he heard his pastor say in his Sunday sermon that the success or failure of a husband is visible in the countenance of his wife. He looked over to his wife and saw only pain. It convicted him deeply. He gathered a handful of men around him. They began praying, formulating the Seven Promises of a Promise Keeper, and holding each other accountable. It soon grew into a movement as men became convicted of the abdication of their spiritual leadership. I had the privilege of running the prayer room of their conference in Minneapolis, MN, and I remember standing in the Metrodome listening to 60,000 men sing, "As for me and my house, we will serve the Lord." Tears flowed. The next night, a handful of us prayerwalked the dome's exterior due to protestors. We heard the thousands of voices raise to heaven as one singing, "It is Well With My Soul." The otherwise noisy area around the stadium fell still. Protestors lowered their signs and listened. People hurrying along stopped in their tracks and bowed their heads. Men were praying and worshipping God with power and passion!
No one really knows why this movement that impacted hundreds of thousands of men ebbed away so quickly. Twenty-five years later, we need a new male awakening.
I think it is time we stop lamenting and analyzing and start believing in a God who is more than able to overcome everything that is keeping men from becoming passionate, Spirit-filled, prayer-driven spiritual leaders in America's Church today. There is no question that we need such an awakening, and there is no question that God can do it.
For that reason, I call upon all who feel stirred to pray for a male awakening to turn their faith in an omnipotent God who loves to bring revival into fervent united prayer. Let's roll out the welcome mat for Him to move among our men!
There is reason to be thankful. The number of men who are part of Intercessors for America seems to have grown significantly during the past couple of years. Let us pray that this growth will snowball! Here are a few more suggestions for prayer:
Pray for God to stir up relentless prayer for revival among men.
Pray for prayer movements like Men Praying Everywhere to gain momentum.
Pray for God to stir in the hearts of men to seek Him and rediscover their God-given roles as spiritual servant leaders to their families, churches, and communities.
Pray for discipleship programs and men's ministries in churches to veer away from entertainment and towards rediscovering prayer, the Word, and the Great Commission.
Pray for women to embrace the emerging spiritual leadership of men.
Pray that the lies Satan has sown into the souls of men – to seek their identity in their achievements and vocations – be exposed and replaced with the truth that they are sons of the One True King.
Pray for men to accept the mantle of priesthood and take their place as intercessors in the Kingdom of God.
Father in heaven, move among Your sons in the American Church. Ignite a new passion in them, a new desire for intimacy with You, a rediscovery of the priestly ministry of intercession You desire for them, and servant leadership in their homes, churches, and communities. In Jesus' Name, Amen.
Check out this video below to learn about the "Men Praying Everywhere" initiative:
 Share your own prayers for a male awakening below.
Remco Brommet is a pastor, spiritual-growth teacher, and prayer leader with over 40 years of experience in Europe, Southeast Asia, Africa, and the U.S. He was born and raised in the Netherlands and pastored his first church in Amsterdam. He moved to the U.S. in 1986. He and his wife, Jennifer, live north of Atlanta. When not writing books, he blogs at www.deeperlifeblog.com and assists his wife as a content developer and prayer coordinator for True Identity Ministries. Jennifer and Remco are passionate about bringing people into a deeper relationship with Christ. Photo Credit: Jack Sharp on Unsplash.