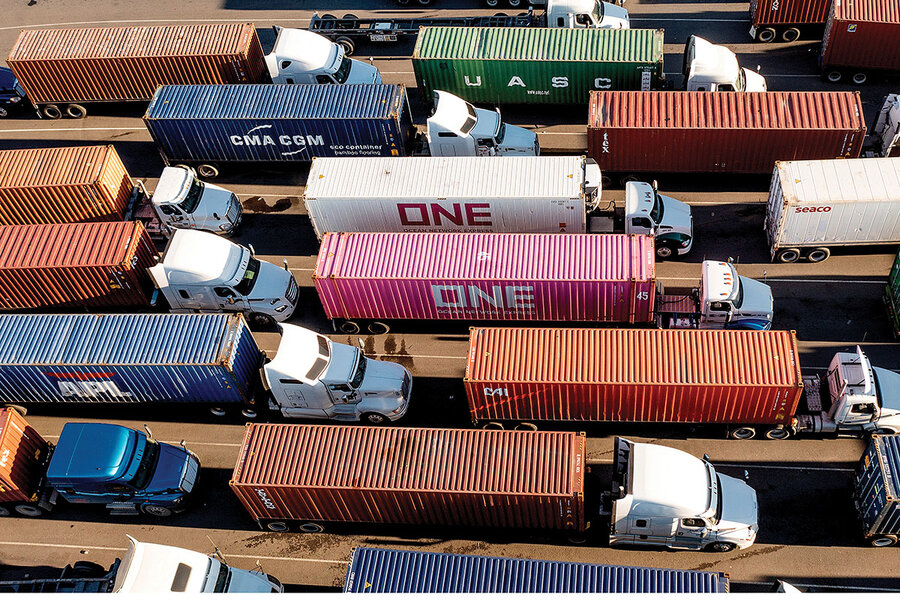 1. United States
In a sweeping move toward accountability, California will require large companies to disclose their carbon emissions. Senate Bill 253 applies to roughly 5,400 companies that do business in the state and have annual revenues exceeding $1 billion. By 2026, companies will have to report emissions from energy used and the indirect emissions of the generation of that energy. By 2027, they must disclose "Scope 3" indirect supply chain emissions, such as from employee travel and shipping of goods.  
Though many large companies already calculate their carbon emissions, SB 253 will force stragglers to catch up and standardize emissions reporting. The law's reporting mandates are based on the Greenhouse Gas Protocol, a widely used international standard. The state will allow companies to reuse emissions records filed in other jurisdictions to simplify reporting.
Why We Wrote This
In our progress roundup, language is no barrier for volunteers in the U.S. and Europe providing health care for people in Ukraine by phone. And around Japan, night schools fill a gap for both foreigners and Japanese who missed out on middle school.
Among other environmental laws signed by Gov. Gavin Newsom in September is a companion law, SB 261. The two bills together are the most extensive climate disclosure laws in the United States. SB 261 says that "economic actors" risk harm to communities without adequate planning and will require more than 10,000 companies to report climate-related financial risks and mitigation and adaptation plans.
Source: Fast Company 
2. Antigua and Barbuda
Conservationists transformed a barren island of Antigua and Barbuda into a wildlife sanctuary, fulfilling the country's part of the global "30×30" goal to protect 30% of the planet by 2030. The island of Redonda was devastated in the late 18th and early 19th centuries by guano mining operations that left behind invasive black rats and goats. In 2016, a local and international consortium began removing rats and goats from the island, transporting the goats – many of which were starving due to lack of food – off the island via helicopter.
The island rebounded quickly. Native trees and grasses resprouted, and seabirds such as the red-billed tropicbird returned.
Conservationists say the population of the critically endangered Redonda ground dragon, endemic to the island, has increased thirteenfold since 2017. Established in September, the Redonda Ecosystem Reserve spans nearly 30,000 hectares (114 square miles) of land, coral reefs, and seagrass meadows.
The Environmental Awareness Group, a local environmental organization, installed cameras to watch for rats and is monitoring local fishing activities. A 2022 study of invasive species removals on 1,000 islands around the world said that such efforts were 88% successful. The organization hopes to reintroduce more species, such as the burrowing owl, to the island.
Sources: BBC, Mongabay
3. Ukraine
Telehealth is helping Ukrainians access services from volunteer health care professionals in Europe and the United States. Experts estimate that amid war with Russia, 1 in 4 Ukrainians – and 60% of Ukrainian soldiers – are experiencing mental health issues such as anxiety and post-traumatic stress. Yet Ukraine does not have enough mental health providers to support everyone, and the conflict has further disrupted access. TeleHelp Ukraine is helping bridge the gap.
Co-founded in April 2022 by Ukrainian native Solomiia Savchuk, a medical student at Stanford University, the group recruits licensed clinicians and language interpreters for a free health service accessible to any Ukrainian with internet. In 16 months, TeleHelp Ukraine provided 1,400 people with virtual consultations with professionals from cardiologists to therapists. Sessions are often in Ukrainian, with an interpreter, though some patients opt for English sessions.
The World Health Organization and U.S. Agency for International Development are among the groups that have also mobilized to improve Ukrainians' access and break down the stigma of seeking mental health care. "Against the background of daily alarming news … it doesn't seem appropriate to ask yourself 'How are you?'" Ukrainian first lady Olena Zelenska said. "But in fact, psychological well-being and understanding of what is happening in our inner world is more timely than ever."
Source: Reasons to Be Cheerful
4. South Africa
Africa's white rhino population increased for the first time since 2012. Conservation efforts resulted in a 5.2% increase in rhino populations last year, according to estimates announced by the International Union for the Conservation of Nature.
Rhinos once roamed widely across Africa and Asia, but hunting, poaching, and habitat loss have driven population levels to less than 5% of the half-million that lived in the early 20th century. The only northern white rhinos, for example, are a surviving mother and daughter that live under 24-hour protection in Kenya. The southern white is near threatened, the only one of five rhino species that is not critically endangered. Rhinos are critical drivers of biodiversity, creating and regulating habitats for other species.
The International Rhino Foundation has praised the creation of large protected areas like Kruger National Park in South Africa, but poaching remains the rhinos' biggest threat, as poachers move on to target smaller reserves. In January, the treasury departments of the United States and South Africa partnered on a task force to disrupt the illegal trade of rhino horns. And in September, the African Parks foundation acquired a privately owned white rhino breeding project. Over the next decade, the foundation will attempt to rewild and rehome 2,000 white rhinos and push for more stringent local protection for the animals.
Sources: ABC News, International Union for the Conservation of Nature
5. Japan
Night schools are offering a second – and first – chance at education. Following World War II, public junior high night schools offered students who could not complete their compulsory nine years of education an opportunity to learn. Japan does not recognize home-schooling, and in 2016, a law required local governments to provide classes for children 15 and under who have dropped out of regular school.
But the night schools have also increasingly come to serve foreign nationals who want to learn Japanese or finish ninth grade. About 60% to 80% of night school students have foreign roots.
Night schools offer a slate of subjects from math to physical education. At the country's newest night school in Iwata in the Shizuoka prefecture, instructors emphasize "team teaching," with several teachers in a classroom at once teaching students based on their level of learning and Japanese language ability.
Some school officials hope that night schools can offer even more support for foreign nationals. "Non-Japanese residents and children with foreign roots have difficulty in learning Japanese and in other aspects of education," said Hideo Nishida, the principal in Iwata. "I hope public night junior highs can be a hub."
Sources: The Asahi Shimbun, The Mainichi