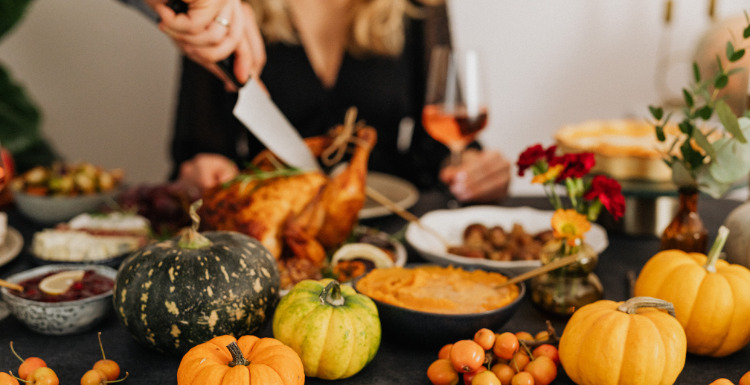 Analysis. This being Thanksgiving week, social media and e-newsletters are loaded with thoughts and devotionals about the significance of Thanksgiving.
Sorry.
I'm going to add mine to it.
Because I found myself wondering: why are we commanded to give thanks? It says so, among other places, in 1 Thessalonians 5:18 (NKJV): "in everything give thanks, for this is the will of God in Christ Jesus for you."
Humor me and let me share my musings with you.
According to the Apostle Paul, giving thanks is an act of obedience to the will of God. It is part of what He works in us, namely "to will and to do for His good pleasure" (Philippians 2:13 NKJV). Simply stated, He works in us to want what He wants, and that includes giving thanks.
The significance of this command to give thanks lies in the qualifier: in everything. Not in some things. No.
In everything.
Some translations, like the ESV (which I use the most) decided to translate this as "in all circumstances." With due respect to the learned linguists that compiled this translation, I think that is a mistake. It doesn't go far enough. The Greek text says "en panti" which literally means "in everything."
Isn't it just like God to want to go deeper with this than the superficial ruminations of the human mind? That human mind tends to think: "Thank you for my blessings." Some of us would think about all the stuff we got, others about health and family, yet others about our salvation in Christ on top of all the good stuff.
Nothing wrong with that. But we could go deeper.
In Christ, God restored us to a relationship of complete dependence on Him for all things on this side of heaven – the very thing for which He created man and that got derailed by man's sinful nature, which prizes independence from God in all things. The heart of sin is our desire to be our own gods.
Hence Jesus' comparison in John 15 of His redeemed being branches attached to the Vine and the explanation He gives in verse 5: "apart from me you can do nothing."
When we give thanks to God for our salvation, which we should do daily, we should not only give thanks for what we have been saved from (eternal condemnation to hell), but also for what we have been saved for – a relationship of daily, constant, complete, delightful dependence on Christ Who is at work within us and Who is all in all and for all and through all.
En panti – in everything.
I believe that giving thanks in everything is an expression of true humility – the humility we are called to exercise under the mighty hand of God in the Apostle Peter's letter,
"Humble yourselves, therefore, under the mighty hand of God so that at the proper time he may exalt you, casting all your anxieties on him, because he cares for you." ( 1 Peter 5:6,7)
When we come to Christ and repent of our sin, we turn away from the heart of our sinful nature: independence in all things. Humility is the opposite of that: a willful, intentional declaration of dependence on Him in all things. Some call it surrender. I think we need to surrender every day afresh and begin our daily walk with Him by intentionally declaring our independence from God as dead and declaring our dependence on Him as our paramount attitude.
And then there's this: anxiety comes from our fear of failure or coming up short when we try to be independent from God. Believe it or not: anxiety is related to pride. Humility is the antidote: a grateful, faith-filled dependence on God and turning every trial we face over to Him.
That is why giving thanks in everything is God's will for us in Christ Jesus. Because our gratitude is our heartfelt expression of depending on Him for all things in life. Our salvation, the presence and work of the Holy Spirit in us, His daily grace toward us, the hope of eternal life, victory over Satan, provision, protection, wisdom, guidance, and a whole bunch more. Everything. It demonstrates that we have crucified our independence and gladly receive everything we need and love from the hand of God. This delights the heart of God. Not because He is a megalomaniac, but because He delights in the joy of His children in receiving all good things from His hand. That is why it is His will. Giving thanks is good for us because it reminds me where all we have comes from and our joy in remembering that gives pleasure to the heart of God.
A grateful heart says: "everything I have and am in my life I have and am by the grace and mercy of God."
An ungrateful heart says: "Of course I have all that – I am worth it."
But what about those circumstances? What if I am suffering, and the pain is so intense that I can't even think about being grateful? It is in those tough circumstances that God draws nearest and works in us the hardest to form Christ in us and to strengthen our faith. When our pain is the greatest, we can depend on Him the most. And so we can thank Him for His promise "I will never leave you nor forsake you" (Hebrews 13:5). For better or worse, for richer or poorer, in sickness and in health.
Thanksgiving is an opportunity to emphasize and celebrate an attitude we must have every day: gratitude, rooted in the knowledge that we were created for dependence on the God of the Universe Who lovingly gives us all things, and that this relationship has been restored to us in Christ Jesus.
The Greek word for "give thanks" is eucharisteite, from the verb "eucharisto." Sound familiar? "The Eucharist" is what Holy Communion is called in the Roman Catholic Church and several other liturgical churches. Holy Communion gives thanks for Christ's incomparable love expressed in His death on the cross, where He bought with His blood our right to call ourselves children of God and live in complete dependence on Him.
Every eucharist and every Thanksgiving holiday should be a catalyst to keeping our hearts filled with gratitude for all that God does and is for us.
So let us give thanks with a fresh and deep perspective, and rejoice that in doing so, we are acting according to God's will.
What are you thankful for this Thanksgiving? Share below in the comments!
(Used with permission. By Remco Brommet from The Deeper Life. Photo Credit: Canva)