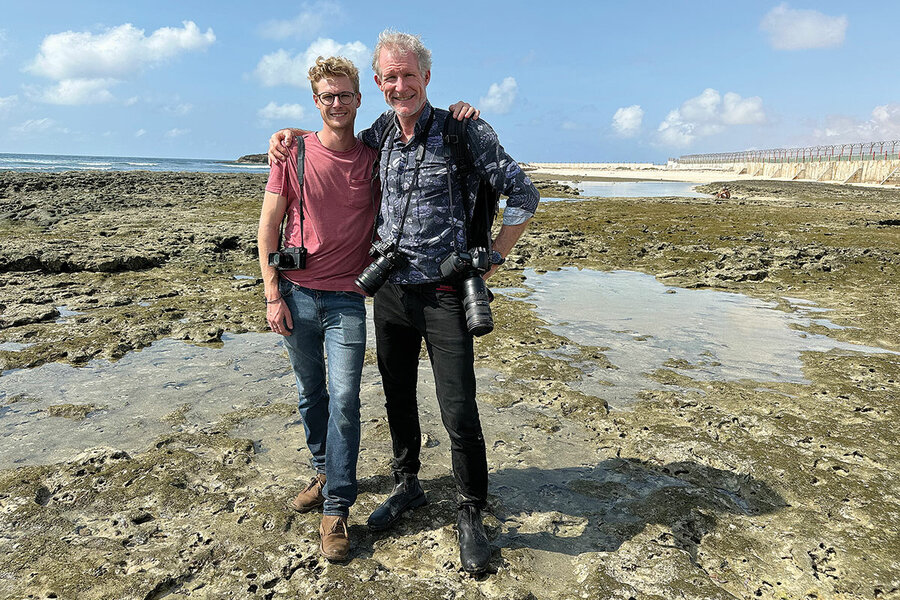 War correspondent Scott Peterson was 25 years old when he first went to Somalia, so his cover story this week holds special meaning for him. It brought him back to a nation he had first encountered in the early 1990s, when it was collapsing under the weight of widespread hunger and violence. Similar threats are roiling the country again, but conditions had shifted enough to support a return trip. Something else had changed as well: This time, Scott's son Guy traveled with him.
Father and son had planned a trip together to mark Guy's college graduation. The original destination was a bit less adventurous, at least by Scott's standards. "I had in mind something like the World Nomad Games, which take place framed by scenic mountains in Kyrgyzstan," Scott says. But the pandemic delayed travel. Guy, meanwhile, had established himself as a photographer in West Africa. Warning signs were growing about famine in Somalia. Guy recently took a hostile environment training course, and Scott joined him to refresh his skills. "That made me realize how ready he might be if a conflict situation arose. And I thought, maybe Somalia." 
That idea isn't as surprising as it might seem. Scott's work in Somalia set him on a decadeslong course of writing about and photographing the world's conflicts with a powerful compassion for those caught up in them. Now, Guy was embarking on his own journey. In an echo of the 1990s, warning bells were sounding about Somalia's hunger crisis. It made sense to explore the story together. 
Of course, Scott had much to offer Guy as an experienced war correspondent and student of Somalia's history. A large chunk of his book on Africa, "Me Against My Brother," is devoted to the country. He's stayed in touch with long-ago sources; one he reconnected with recalled how Scott, desperate to catch a U.N. plane, had once stunned everyone by scaling and leaping over a high wall of a compound blockaded by Somali gunmen because of a pay dispute. Scott grasps the complexities of conflict – including how ordinary people persist amid the most daunting challenges.
A generation ago, Scott couldn't have imagined he'd come back with a 25-year-old Guy – who had plenty to offer his dad as well, sharing photographic techniques and first-visit perspectives. "I learned from him, and he from me," Scott says. "Every night, we'd sit down in Baidoa or Mogadishu, looking at each other's images, sharing comments. This was a live situation where we felt we were helping to sound an alarm about Somalia's famine. That made a difference."
Nor could he have envisioned what their partnership would mean to Somalis, who took close note of this rare American who returned. "It was a talking point that I had been there at such an incredible period in their history," Scott says. "And then when I say, this is my son, we're going to witness this together – they were so pleased. To them, it was a total sign of respect.
"All those things came together in a really beautiful way."