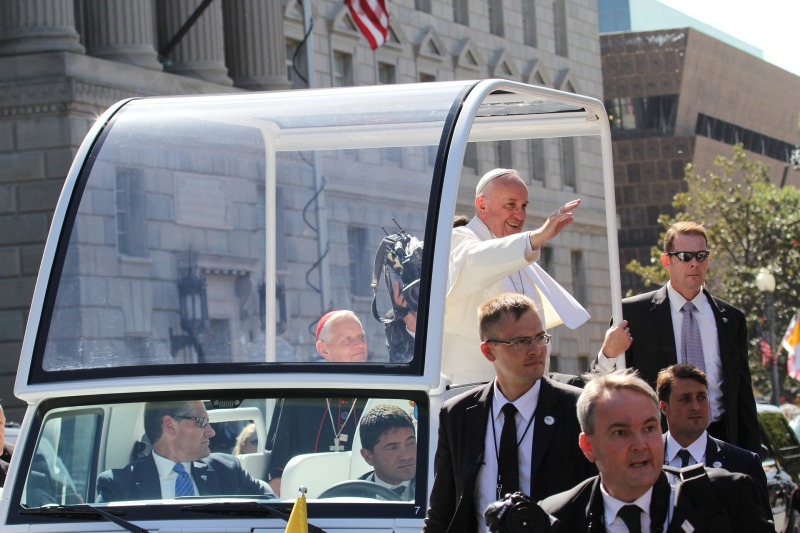 Pope Francis denied losing consciousness before his hospitalization in March, clarifying his health concerns during his in-flight press conference on Sunday, Apr. 30. According to a report from Catholic News Agency, the pope had been hospitalized due to "strong and acute pneumonia" in his lower lungs, which was first diagnosed as bronchitis.
Pope's Response
During the press conference, the 86-year-old pope explained that he had felt unwell after the Wednesday audience in March and went to lie down instead of having lunch. He denied losing consciousness and later developed a high fever, prompting his doctor to take him to the hospital for immediate treatment.
"The body responded well to the treatment. Thank God," Francis said, referring to the antibiotic infusion therapy he received during his hospitalization.
The pope's health was also questioned during his upcoming travels, including World Youth Day in Lisbon, Portugal, and trips to Marseilles, France, and Mongolia in August. However, he confirmed that a doctor had checked him before his trip to Budapest and that his scheduled travels were still on "for the time being."
Despite using a wheelchair and a cane during his recent trip to Budapest, the pope managed to deliver two public speeches per day. Reporters also noted his relaxed schedule, and he used the opportunity to emphasize the importance of taking care of one's health.
After the press conference, the Vatican has yet to release a statement on the pope's health. Nonetheless, the clarification from the pope himself should ease any concerns about his health as he continues his duties as the leader of the Catholic Church.
Also Read: Pope Francis Presides Palm Sunday After Discharge From Hospital
Pope's Hospitalization
The Guardian reported that the Vatican announced on Mar. 29 that Pope Francis had been hospitalized due to a respiratory infection. The statement said that the pope had been experiencing breathing difficulties recently, but tests showed he did not have Covid-19. The Vatican stated that Pope Francis would need to spend "a few days" in a hospital for treatment.
After appearing in good health earlier in the day while attending his weekly general audience at the Vatican, Pope Francis' unexpected hospitalization has raised concerns about his ability to lead the Palm Sunday service on Apr. 2. The service marks the start of a week filled with essential ceremonies leading up to Easter Sunday on Apr. 9. The uncertainty surrounding the pontiff's health has cast doubt on his ability to participate in the daily events.
As per PBS News Hour, Pope Francis was discharged from the Rome hospital on Saturday following treatment for bronchitis. The pontiff had been hospitalized at Gemelli Polyclinic on Wednesday after experiencing breathing difficulties. During his stay, he received antibiotics administered intravenously. 
Moreover, as a sign of his improved health, the Vatican released Francis' Holy Week schedule details. It said he would preside at the Palm Sunday Mass and Easter Mass on Apr. 9, held in St. Peter's Square and expected to draw tens of thousands of faithful.
Francis has a history of respiratory issues, which may be attributed to removing part of one of his lungs during his early years as a seminarian in Argentina. As a result, he is at higher risk of developing breathing difficulties and related ailments.
His recent hospitalization has raised concerns about his ability to lead essential services during Holy Week. Nonetheless, his discharge from the hospital and the release of his Holy Week schedule suggest that he is recovering and will be able to carry out his duties as usual.
Related Article: Vatican Reports Pope Francis' Health' Steadily Improving' During Hospital Stay